When James Bond arrives at his Istanbul hotel in From Russia With Love, he finds that the room is bugged (naturally), is moved to the bridal suite, and orders breakfast: green figs, yoghurt and coffee — very black — for nine o'clock delivery.
As this has been the week of social proof, I'd like to pose the question: why did this type of breakfast never catch on? After all, sales of men's undershirts allegedly declined sharply after actor Clark Gable appeared bare-chested in the 1934 film It Happened One Night, in which Gable plays a — you guessed it — knackered hack. (See snopes for a critique of this notion).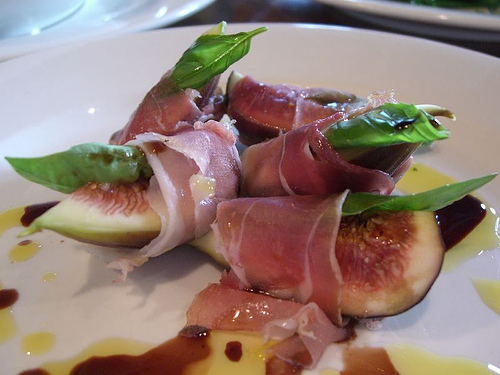 We'll get to figs in a moment, but 007′s lie-in after a trip seems very wise in terms of recovery. Further evidence that organizations expect too much of staff was reported yesterday at a Chartered Management Institute Convention from a CMI survey. There is a culture in most companies that dictates we work when we are ill or run-down. This is damaging long-term productivity: managers admit to making more mistakes when ill. Of course, Bond had more reason than most for a late breakfast as he could reasonably assume he might wake up next to Daniela Bianchi.
You might think that Sean Connery's savoir-faire in the form of yoghurt and figs for breakfast might have fired the working-class imagination and put a dent in rising sales of Kellogg's Cornflakes in the 1960s. But even if figs had been a) broadly available in the 1960s and b) affordable, my hunch is that the Brits wouldn't have bothered. Nevermind their prime position in many an ancient myth, figs have had an odd and unpromising history in British culture. In my partly-working-class childhood, figs only appeared in any form at Christmas (dried), or in lavatorial jokes about their loosening powers (syrup of figs). Fresh figs came from the world of Elizabeth David, whose books I only discovered in adulthood.
Well, in the past few weeks, I've decided to give up breakfast cereal and to go for fruit instead, following de Vany's example, as per usual. We're now in that "season of mists and mellow fruitfulness", as Keats would have it, so figs have been in season and available at allegedly half price down at the local supermarket. Buying figs reflects my renewed emphasis on variation, and I'm seeking out increasingly exotic food, where possible, which is low down on the glycemic index. I came to figs most recently because of Mark's Daily Apple and the wonderful Flickr photo above that he posted from a restaurateur in Scotland Melbourne, Australia. So, if you fancy trying Bond-style figs for breakfast, you could go here to Spicelines for a mouth-watering honey, vanilla, lemon and thyme-enhanced recipe. You can also try figs, prosciutto, basil, olive oil and vincotto for lunch in St Kilda (as above).
As Mark says:-
Oh, the forgotten fig. It seems to get lumped into the dates 'n raisins category, but figs are just as low in sugar as strawberries, and are packed with fiber (all those tender, tiny seeds). Enjoy these fresh whenever they're in season.
Incidentally, I have only just realized that the fig is not strictly a fruit but a mass of hundreds of internal flowers. These are fertilized by a particular type of tiny wasp, but don't let that put you off. If you want to know more about this curious symbiotic relationship, see this natural history film. It includes some wasp copulation, so be warned.
photo credit avlxyz
undulating route to higher performance
seeing cravings in a new light
Donate and help me buy back my Fender ('About' tells you why)
Share This
Tags:
-finance-and-markets
,
art-de-vany
,
behaviour
,
business
,
celebrities
,
Elizabeth-David
,
endurance
,
failure
,
figs
,
From-Russia-With-Love
,
illness-and-injury
,
James-Bond
,
nutrition
,
recovery
,
Sean-Connery
,
stress
,
weight loss
,
work-life balance
Filed under: behaviour, business, finance and markets, celebrities, endurance, failure, illness and injury, nutrition, recovery, stress, weight loss, work-life balance
|
Closed
---