Today was National Apple Day in the UK, and at the Bath Farmers' Market yesterday the enterprising folk put on an enormous display of 249 varieties. Campaigners complain that supermarkets stock just a few, and this means that a good many varieties are dying out. Those apples that are surviving tend to be those bred for sweetness.
This might remind you of when I first mentioned figs a couple of months ago. Here is comment by Nassim Taleb on his home page about the apple:-
The word Apple exists in old Semitic languages (Tapouach, …Taphaha…), though it may just mean "fruit" (I assume that apple was the forbidden fruit –the sweetest then). But the old apple then was not what we would call apple today. I remember apples from the Kadisha valley near my house in Amioun. There are areas in the holy mountain that have resisted tinkering –altitude is too high for the inhabitants to have a choice of what to grow. I recall the taste of these apples during my childhood –and the variations, Sfarjl. They were not sweet. Nor were grapes sweat [sic]. Fruits had an acidity to them I don't find anymore. They were low-carb."
If you go to my apple slide show at Flickr you can see the various apple forms. 249 just happened to be the number they had table space for. There are many more. The book listed below describes 3,000 varieties that can be grown in the UK. Unfortunately none of those on display were for sale. Excuse the photo quality: I used a very basic smartphone camera. But you get the idea.
I'm sure the campaign will eventually be successful, and with the support of supermarkets — particularly clever ones like Waitrose — there will be a lot more variation in the future. Perhaps their smart marketing guys will one day tell us that a different apple a day keeps the doctor away. In the meantime, go hunt down an event and support a local grower; some places are doing interesting things during the week if you are in the UK.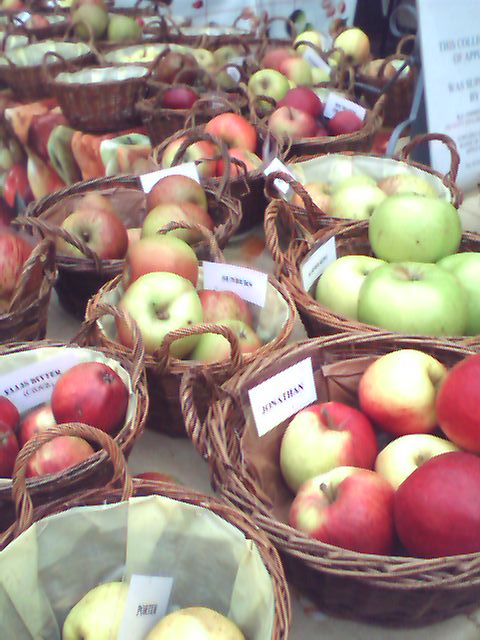 Related Posts:-
fractal mafia and the roman doctor
Donate and help me buy back my Fender ('About' tells you why)
Share This
Tags:
apple-a-day
,
apples
,
common-ground
,
low-carb
,
nutrition
,
recovery
,
variation
,
weight loss
,
work-life balance
Filed under: nutrition, recovery, weight loss, work-life balance
|
Comments
2
---