Archive for January, 2008
I try not to write on events in anything like real time. Think of it as a contrarian posture of a blogger who spent 15 years in newswires. But yesterday's reporting on the intimidation of British Council officials in Russia cuts conveniently into my current Russian reveries. It also highlights, in a small way, what I learned at a seminar I attended on Wednesday at University College London.
The kind people at UCL let unaffiliated roughnecks like me in for free at the London Judgement and Decision Making Group meetings. Terry Connolly, Eller Professor of Management and Organizations at the University of Arizona, was talking about Regret and the Perils of Decisional Improvement. His themes are some that I'll return to in coming weeks, I hope, because regrets (you guessed it), I've had a few.
When I was a student (and briefly after) I confess that I did occasionally wear bow ties. Once I'd figured out how to tie the pesky things, it was a badge of honour. With someone of my social background it represented a bit of cheap sophistication. But bow ties don't really work in the rough and tumble of a Fleet Street newsroom. So pretty soon after I started work I stopped wearing them. I still have most of the tweedy garb from that period, and it allows me to go to fancy dress parties and pretend to be Mr Toad. There are some bow-tie-wearing journalists around still, and you can learn more about their bad temper here, and how they hacked off the hack (though not really) here.
This is the story of the first bow tie I ever owned and how I parted company with it, overcoming the kind of "regret salience" that Prof Connolly describes. Continue reading 'cultural ties'
Donate and help me buy back my Fender ('About' tells you why)
Tags:
Bloomberg
,
bow tie
,
British Council
,
Leningrad
,
Pop Mechanics
,
regret
,
Viktor Tsoy
Filed under: behaviour, collaboration, creativity, endurance, kino, life the universe and everything, music, what hacks off the hack?, what knackered the hack?, writing
|
Comments
2
As promised from yesterday, another great clip, which will be the best eight minutes you spend today.
If surfing brings out the extreme then surely Grant Washburn's double-negative referring to Jeff Clark, Maverick's organizer and the first person to tackle the waves head-on, takes some topping:
It wasn't obvious that he was..uh…not crazy."
And here we are talking about an earth-moving experience. As Bill Martin, KTVU Chief Meteorologist says:-
When you talk about energy release the most amazing thing I have ever heard — and this is absolutely the case — when the waves get big out here and they crash onto the North American plate, they register on the UC Berkeley seismograph."
Go here for full screen version from KQED. If you have kids, show it to them.  They'll love it.
Donate and help me buy back my Fender ('About' tells you why)
Tags:
grant washburn
,
Jeff Clark
,
Maverick's
,
oceanography
,
risk
,
surfing
,
weather
Filed under: behaviour, black swans, endurance, life the universe and everything, sports, work-life balance
|
Closed
Twitter showed its worth when @ryansholin announced (at least, it was news to me in landlocked Bath) that Maverick's – the annual big wave surfing event in Santa Cruz, Northern California — was convening this past weekend. The organisers called it last minute on Friday. All the young dudes rushed in to catch the notoriously huge Pacific west-by-north-west swell on Saturday.
Ryan, who blogs on the changing face of journalism, works for used to work for the Santa Cruz Sentinel, but recently moved to GateHouse Media, a large publisher of highly local print and online publications. Maverick's is in his back yard. He pointed us to the Maverick's website, where I spent enough time looking at 2006 wipeouts (see below) to end up with a headache. It didn't take long.
Just in case you think I'm suffering from apostrophe failure, "Maverick's" is short for "Maverick's Point" — Maverick being a white-haired German Shepherd dog whose human surfing companion was reputedly one of the first to try the giant waves near Half Moon Bay back in the '60s. The dog tried to swim out to join his surfing buddy, but the conditions were too treacherous and he had to be tied to the car bumper instead for his own safety.
Surfing heaven, sailing hell
I could not have cared less about surfing a few months ago. I'd seen crazy folks surfing mid-winter in Cornwall, desperately seeking even the tiniest waves in full wet-suits, while I stood (marginally less frozen and windswept) safely on shore. British surfing culture, such as I imagined it, left me cold; old surf-bum cliché mashed up with the with teenage surf fashion — who needed it?
It wasn't that I didn't have an affinity for the sea. I spent my twenties sailing a yacht most weekends and studying navigation on Tuesday evenings at night school in very non-coastal Parliament Hill, North London. I'm qualified as a Royal Yachting Association coastal skipper, hold the obligatory VHF radio operator's licence, and can confirm that yachting in the home waters of the UK is indeed like standing in a cold shower tearing up £20 notes. Who needs that either, frankly?
Crucially, though, for a yachtsman, the place where land and sea meet when the wind is blowing onshore is a no-go area. The lea shore that is surfing heaven is the sailor's total nightmare.
But last summer in Devon, my aversion to surfing changed. It was so wet on land in August that, having been rained on solidly in our camp site for several days, we thought we might just as well embrace our dampness and at least add the wind-protective qualities of neoprene. Courtesy of Loose-fit in Braunton (the world's first carbon-neutral surf shop, they assure me), we invested in some state-of the-art suits and plunged into the foam at Saunton Sands, encouraged by the Loose-fit slogan: "Hang Loose in the Juice." We were only on trashy bodyboards, purchased at the beach-side store, but it was surprisingly exhilarating. It transformed a holiday that would have otherwise been a washout.
Flush-through
As a non-scientist, what intrigues me about surfing and sailing, particularly when it comes to understanding and managing risk, is that they embrace and expand your knowledge of the non-linear. For instance, the Beaufort Scale for wind strength (which yachtsmen must learn to determine how much sail to carry, and what course to chart, and whether to go out at all) goes from 1 through to hurricane 12. But clearly a hurricane is not just twice as strong as Force 6; in fact, it's at least three times the wind strength, and produces more than 4.5 times the wave size.
When I did a search of Art De Vany's blog, as I'm wont to do when I want to understand something complex, it immediately threw up the insight that surfing is what de Vany describes as a "power law" activity. And that was what struck me when a large wave unexpectedly up-ended me (not for the last time), and I experienced the sensation that surfers call "flush-through" or "wash-thru": when the ocean breaches the sea-defence that is your wet-suit's collar and your nether regions get flooded with icy cold water, rendering you a human washing machine on a particularly vigorous rinse cycle.
Now, Ryan, at Invisible Inkling, talks a lot about the wave of change that is causing journalists and publishers to experience some of that metaphorical cullion-tightening wash-thru too. He urges journalists to re-skill, get blogging, Twittering and exploring social networks. Because newspaper circulations are falling, and revenue models that can guarantee the future of serious news-gathering are so far proving highly elusive.
Riding the wave
Putting these two things together reminded me of my own youthful Jeremiah pronouncements and specifically a now somewhat banal — but nonetheless prescient — observation I'd made in a meeting in 75 Wall Street way back in 1996, when I was London bureau chief for Knight-Ridder, and the idea of monopolising the Internets was just a twinkle in the young eyes of two 23-year-olds called Page and Brin.
I'd been summoned for meetings there with my fellow news managers to strategise the recovery of the Knight-Ridder international newswire that had spent several months passing through the uncertainty of an auction before being acquired from the Miami-based newspaper company (then still a thriving independent entity as one of the two largest publishers in the US) by venture capitalists.
I forget how many staff we lost precisely, but we were at least fully decimated. Fearful of acquisition by a competitor and enforced redundancy, so many had left seeking greater security, often with said competitors.
Private equity firm Welsh Carsen Anderson & Stowe, the firm that had bought us, had a bold strategy to overturn Reuters, Dow Jones-Telerate, and the emergent Bloomberg, and capitalize on a wave of financial market disintermediation by being the first company in the financial information industry to apply internet protocol. They acquired a bunch of information companies, ripped out their proprietary networks and technologies, and introduced standards.
WCAS already owned what it claimed was the world's largest private intranet, contested only at that time by Hewlett Packard. After buying us, WCAS tried to buy that doyenne of early internet adopters, Compuserve, too. They had the blessing of — and not a small amount of investment from — the world's largest banks and pension funds. At one point Tour de France winner Lance Armstrong was our official spokesman. Continue reading 'the maverick's story'
Donate and help me buy back my Fender ('About' tells you why)
Tags:
art-de-vany
,
collaboration
,
EMI
,
failure
,
Gerd-Gigerenzer
,
hubris
,
Jeff Clark
,
journalism
,
Knight-Ridder
,
Larry Page
,
luck
,
Mark Foo
,
Maverick's
,
music
,
Northern-Rock
,
recovery
,
sailing
,
Sergey Brin
,
surfing
,
Terra Firma
Filed under: behaviour, black swans, business, finance and markets, collaboration, competition and performance, endurance, failure, journalism, life the universe and everything, music, recovery, sports, what hacks off the hack?, what knackered the hack?
|
Comments
3
I've noticed bloggers apologise when talking about Andrew Keen, author of The Cult of the Amateur: How blogs, MySpace, YouTube, and the rest of today's user-generated media are destroying our economy, our culture, and our values. To quote him is to give him the publicity his faux-contrarian defence of mainstream, professional media is designed to elicit. But I'll take this opportunity to say that Keen's attack on the amateur and self-published is, in my view, a little bit Stalinistic.
I'd like to contrast the world he defends, where what we watch, hear and experience should be mediated by professionals, with one still in the recent memory where to self-publish was a political and democratic act and a gesture of defiance. Of course, there are some places still like that.
This thought came to me as I have been working on a pet project to archive some photos of Russian rock god Viktor Tsoy of the 1980s band Kino, who my Twitter followers may already be bored with me mentioning. What I have is an old hand-made cassette and a bunch of photos I took when hanging out with Tsoy in 1986.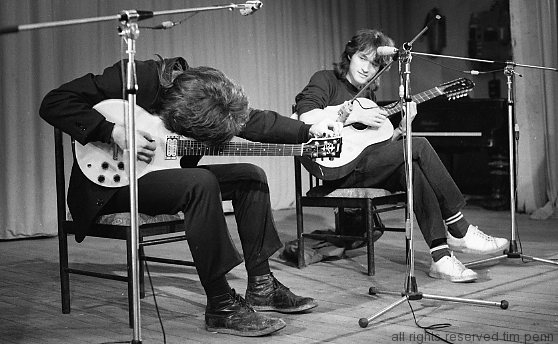 I need to come back to my knowledge of Tsoy in much more detail, but just as Yuri Kasparyan is tuning up in this picture, this post can be a small, note-bending taster of what I will aim to put up in the coming weeks.
Tsoy and Kino are noteworthy for a number of reasons in the history of 20th century culture, and arguably much more iconic than all those indie bands that we neurotic boy-outsiders modelled ourselves after in our youths — those that were invariably selling out while pretending not to. [I'm fine with that, by the way.]
Tsoy died in a car accident in 1990. So deep was his influence on the culture, 65 Soviet youth reportedly committed suicide after his death, thus compounding the individual tragedy. As an icon, Tsoy was one of those rare agencies who was breathing life back into a society that had suffered from seven decades of some of the worst repression in human history.
My most recent research on the band suggests that little if any of their material is copyright. This is not surprising because you could say that the Soviet Russian concept of self-publishing ( "samizdat" or, in the case of the cassette of their songs that I own, "magnitizdat"), was the original creative commons: copy and pass along.
What makes Tsoy the definitive amateur though was that, despite a burgeoning career as Russia's leading rock musician in the late '80s, when he was finally signed to the state record company, he reportedly maintained his employment as a boiler operator.
Well my own efforts are steadfastly amateur in so many respects that I too won't be giving up the day job

. But I must admit to some professional help in the form of my friend the artist Grahame Baker Smith, who helped me scan the first few images and saved me a lot of time by pointing me in the direction of the right technology. Grahame's work for that other rock god Robert Plant can be seen and commissioned here.
Donate and help me buy back my Fender ('About' tells you why)
Tags:
Andrew Keen
,
Creative Commons
,
Cult of the Amateur
,
kino
,
Media
,
music
,
Robert Plant
,
Samizdat
,
Stalinism
,
Viktor Tsoy
,
Yuri Kasparyan
Filed under: behaviour, black swans, business, finance and markets, celebrities, creativity, journalism, kino, life the universe and everything, music, what hacks off the hack?, writing
|
Comments
10
Tweet 3quarksdaily points to an article in Rolling Stone magazine showing how modern music is being dumbed down by sound engineers using compression techniques. They are reportedly under pressure from record companies to make music sound louder, particularly through computer speakers. It looks counter-productive from a commercial point of view, and surely must increase the […]
Filed under: behaviour, competition and performance, creativity, music, stress
|
Closed
---