The following clip found on YouTube gives an idea of the Kino concert at which my pictures were taken. This is a different concert, obviously, because Yuri is not using the Yamaha SG but a Fender Stratocaster, as far as I can see. However, they appear to be from about the same time.
Since the the kids burned their own CD of Eto Ne Lyubov' (This is not Love) not much else has been heard in the house. As neither of them understands Russian, it is rather interesting that they should be so taken with it. It could be that they are doing what all kids will do at times of particular stress ie try to please their parents. Beautiful language as it is, liking incomprehensible Russian song lyrics seems a stretch. But the title song here is lovely. Enjoy the vid in all its amateur graininess.
The video was made using what I can only assume was a cine camera. The poster on YouTube was not the originator, telling me he was not even born at the time. But a close examination of my own pics revealed that there was a cine camera operator taking footage of the gig that I photographed too. I wonder where that footage is now and what became of the film-maker?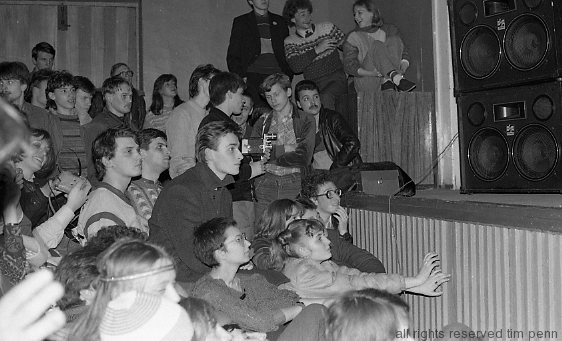 One should not forget that in 1986 the Russian campaign in Afghanistan was in full swing, and it's possible that not a few members of the audience were later victims of their military conscription.
More pictures are on their way…
Donate and help me buy back my Fender ('About' tells you why)
Share This
Tags:
kino
,
Viktor Tsoy
,
Yuri Kasparyan
Filed under: celebrities, creativity, kino, life the universe and everything, music
|
Comments
3
---