Archive for the 'business, finance and markets' Category
Anyone who has read Gerd Gigerenzer's Gut Feelings will recall the description in Chapter 10 of how the pressure to conform creates moral hazard. A powerful heuristic or default seems to operate: "don't break ranks". Failure to adhere can result in peer hostility. The experience of Paul Moore in trying to restrain HBOS executives reveals just how powerful and enduring a force that can be, assuming he is an accurate witness to his own experience at the bank. It goes some way to explain how groupthink can operate in the face of compelling contrary evidence. To quote from his memo to Tuesday's Treasury Select Committee hearing:-
I am still toxic waste now for having spoken out all those years ago!
This might also reflect why today's FT report leaking of an "independent inquiry" into Paul Moore's allegations contained the following observations from the HBOS directors of his behaviour. A case of shooting the messenger?
They told KPMG that while Mr Moore's technical abilities were "recognised as strong" and he gave his team a "strong sense of purpose", they doubted his ability to work with his colleagues. His behaviour in one meeting was described by people interviewed by KPMG as "ranging from prickly to ranting to extraordinary to outrageous".
For those not following these events, Moore was the head of Group Regulatory Risk Management for HBOS until 2005. He alleges that he argued with the board that HBOS's sales culture was running out of control, creating huge risk for the bank should the economy and housing market turn downwards, and that there was a reluctance on the part of executives to have their decisions or behaviour challenged. At the time, HBOS CEO James Crosby dismissed his concerns and terminated his employment. Crosby then moved on to become deputy chairman of the Financial Services Authority. He resigned yesterday morning.
The full text of Moore's memo is here. For the time being, it may be one of the most readable and historic documents of modern finance. One suspects there will be others.
Well, in his deposition to the Treasury Select Committee Moore mentions it, but I doubt that this five-minute module is mandatory yet at any business school. Let me know if I'm wrong.
Photo credit: Tim Penn
Donate and help me buy back my Fender ('About' tells you why)
Tags:
credit-crunch
,
Danny Kaye
,
don't break ranks
,
Gerd-Gigerenzer
,
groupthink
,
Hans Christian Anderson
,
HBOS
,
heuristics
,
James Crosby
,
Paul Moore
Filed under: behaviour, black swans, business, finance and markets, collaboration, competition and performance, diversity, failure, life the universe and everything, stress, what hacks off the hack?, what knackered the hack?
|
Closed
1935 Map of the Somerset and Dorset Railway
No more will I go to Blandford Forum and Moretehoe
On the slow train from Midsomer Norton and Mumby Road
No churns, no porter, no cat on a seat
At Chorlton-cum-Hardy or Chester-le-Street
We won't be meeting again
On the slow train.
I used to live near Blandford Forum, and for the past forty-three years have had some reason to pass through regularly or visit.  My grandmother was born there; my aunt and her husband ran a market garden from Blandford St Mary (it fed the town for two generations at least); my wedding reception was held there. But in the past 12 months it has ceased to be a node in my life.
I remember when they tore up the line, because it ran behind our home (see map).  It was part of the Somerset and Dorset Railway, the "Slow and Dirty" as it was  known colloquially.  I got into trouble for accepting a short ride between Charlton Marshall and Spetisbury from the workmen on their tractor and trailer.  My mother banished me to my room in disgrace, without any tea.  I was only four.
A few weeks ago, when I heard Joe Stilgoe's version (right mouse-click open in new window, play track) of the Flanders and Swann classic Slow Train, my ears pricked up. This sounded special. The song is about the controversial closure of the local British railway network in the 1960s, of which the S&D formed a resonant part.  Where the original song is light opera, the cover is all cool jazz ballad.  Joe's management put it up on Myspace especially for us.  Enjoy.
There's an argument — should it become necessary to mobilize a vast army of unemployed — to rebuild the railways.  If I put on my counterfactual-tinted spectacles, this network would never have been closed had the Brompton Folding Bicycle been invented earlier.   And there might not be a huge car industry now to drag us all into an even deeper crisis.  Just a thought.
Photo credit: Brompton Danny McL
Donate and help me buy back my Fender ('About' tells you why)
Tags:
Blandford Forum
,
Brompton Folding Bicycle
,
Flanders and Swann
,
Joe Stilgoe
,
Slow and Dirty
,
Slow Train
,
Somerset and Dorset Railway
Filed under: business, finance and markets, diversity, failure, life the universe and everything, music, writing
|
Comments
2
Tweet Nassim Taleb and Nouriel Roubini are trying something on Facebook.  With a self-styled "J'accuse," they seek your friendship to support a campaign to get the bailout bankers to repay their bonuses.  Although I normally apply the Groucho Marx heuristic when it comes to joining clubs, I've signed up to this one.  They want it […]
Filed under: behaviour, black swans, business, finance and markets, collaboration, failure
|
Comments
2
Gregory Berns, a professor of neuroeconomics at Emory University and author of Iconoclast: A Neuroscientist Reveals How to Think Differently(UK)/(US), was interviewed this morning on Radio 4′s Today programme exploring the role of neuroeconomics in understanding the current crisis.  He's in Davos for the World Economic Forum, with all the large fromages.
Back in the day, the Knackered Hack used to dispatch a team of reporters to Davos. Press places were then scarce.  Now I'm watching it all on Twitter, my very own self-organizing newswire, and tossing in the occasional iconoclastic observation of my own.  Who-da thunk it?  Everyone and his dog seems to be there; some shuddering, and not from the cold.
Berns message was about as negative as you can get when considering the current crisis.  He deftly applied the old-dog-new-tricks teaching heuristic to an entire generation:-
One thing that we know is when people make decisions that they are uncertain about is that they look to other people… We have seen along the way how other people's opinions essentially pollute those judgments. Now,  modern markets are great. Now, economists like to talk about efficient markets and all of that, but the problem is that they are only efficient when people behave as individuals and render independent judgments.  Now I would probably go as far as saying the current crop of adults is a lost cause in that I think we should be focussing our efforts on the next generation and how to teach them to make judgment that are independent of each other and stop this crazy herd behaviour.
So there you have it.  All current adults are sheep.  Better cancel the Twitter account

.  You can listen to the whole thing here.  I think it was edited, so there may be some context missing and the above quotation therefore not adequately representative. That's mainstream media for you.
All that said, like a dog barking in the wind, I myself did tweet the following just a few weeks ago:-
Haunted slightly by counterfactual sense the boom promoted an entire generation of the wrong type of manager"
I'll come back to that idea soon, I hope.  But in the meantime, given Berns' imperative that we focus on the cognitive capacities of the next generation, it was a neat little coincidence that a review copy of a new textbook by David Hardman, entitled Judgment and Decision Making, arrived in the post yesterday from Wiley. US version available here.  Just take a look at the contents:-
Introduction and Overview: Judgments, Decisions Rationality
The Nature and Analysis of Judgment
Judging Probability and Frequency
Judgmental Distortions: The Anchoring-and-Adjustment Heuristic
Assessing Evidence and Evaluation Arguments
Covariation Causation, and Counterfactual Thinking
Decision Making under Risk and Uncertainty
Preference and Choice
Confidence and Optimism
Judgment and Choice over Time
Dynamic Decisions and High Stakes: Where Real Life Meets the Laboratory
Risk
Decision Making in Groups and Teams
Cooperation and Coordination
Intuition, Reflective Thinking, and the Brain
Back of the net, as they say in soccer.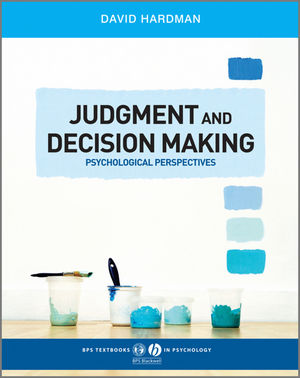 David, with others, runs the London Judgment and Decision Making Group, whose seminars I've been lucky enough to attend when I'm in town.  If Berns is right, David should be needing a larger venue.  David assures me he will be blogging on the book before too long, so I'll let you know when that happens.  We can definitely benefit from a regular dose of wisdom from this discipline.  Of course, it's a little known fact that the Knackered Hack is already one of the leading decision science blogs on the web.  It says so here. And if you are wondering how that happened, the answer remains … well … uncertain.
Photo credit: stephenphampshire
Donate and help me buy back my Fender ('About' tells you why)
Tags:
David Hardman
,
Davos
,
decision science
,
Gregory Berns
,
judgment and decision making
,
LJDM
,
neuroeconomics
,
neuroscience
,
World Economic Forum
Filed under: behaviour, book reviews, business, finance and markets, collaboration, diversity, failure, journalism, life the universe and everything, what hacks off the hack?, what knackered the hack?
|
Comment
1
Tweet Many people will claim prescience in the matter of Bernard Madoff's investment scam, although fund manager Nicola Horlick and MarketWatch columnist Irwin Kellner will not be among them.  Both were heavily invested it seems.  However, sharp-eyed readers will remember my explicit warning of a few weeks ago through the vehicle of Jake Thackray's music. […]
Filed under: behaviour, business, finance and markets, failure, what hacks off the hack?
|
Comment
1
---