Archive for the 'collaboration' Category
Tweet Nassim Taleb and Nouriel Roubini are trying something on Facebook.  With a self-styled "J'accuse," they seek your friendship to support a campaign to get the bailout bankers to repay their bonuses.  Although I normally apply the Groucho Marx heuristic when it comes to joining clubs, I've signed up to this one.  They want it […]
Filed under: behaviour, black swans, business, finance and markets, collaboration, failure
|
Comments
2
Gregory Berns, a professor of neuroeconomics at Emory University and author of Iconoclast: A Neuroscientist Reveals How to Think Differently(UK)/(US), was interviewed this morning on Radio 4′s Today programme exploring the role of neuroeconomics in understanding the current crisis.  He's in Davos for the World Economic Forum, with all the large fromages.
Back in the day, the Knackered Hack used to dispatch a team of reporters to Davos. Press places were then scarce.  Now I'm watching it all on Twitter, my very own self-organizing newswire, and tossing in the occasional iconoclastic observation of my own.  Who-da thunk it?  Everyone and his dog seems to be there; some shuddering, and not from the cold.
Berns message was about as negative as you can get when considering the current crisis.  He deftly applied the old-dog-new-tricks teaching heuristic to an entire generation:-
One thing that we know is when people make decisions that they are uncertain about is that they look to other people… We have seen along the way how other people's opinions essentially pollute those judgments. Now,  modern markets are great. Now, economists like to talk about efficient markets and all of that, but the problem is that they are only efficient when people behave as individuals and render independent judgments.  Now I would probably go as far as saying the current crop of adults is a lost cause in that I think we should be focussing our efforts on the next generation and how to teach them to make judgment that are independent of each other and stop this crazy herd behaviour.
So there you have it.  All current adults are sheep.  Better cancel the Twitter account

.  You can listen to the whole thing here.  I think it was edited, so there may be some context missing and the above quotation therefore not adequately representative. That's mainstream media for you.
All that said, like a dog barking in the wind, I myself did tweet the following just a few weeks ago:-
Haunted slightly by counterfactual sense the boom promoted an entire generation of the wrong type of manager"
I'll come back to that idea soon, I hope.  But in the meantime, given Berns' imperative that we focus on the cognitive capacities of the next generation, it was a neat little coincidence that a review copy of a new textbook by David Hardman, entitled Judgment and Decision Making, arrived in the post yesterday from Wiley. US version available here.  Just take a look at the contents:-
Introduction and Overview: Judgments, Decisions Rationality
The Nature and Analysis of Judgment
Judging Probability and Frequency
Judgmental Distortions: The Anchoring-and-Adjustment Heuristic
Assessing Evidence and Evaluation Arguments
Covariation Causation, and Counterfactual Thinking
Decision Making under Risk and Uncertainty
Preference and Choice
Confidence and Optimism
Judgment and Choice over Time
Dynamic Decisions and High Stakes: Where Real Life Meets the Laboratory
Risk
Decision Making in Groups and Teams
Cooperation and Coordination
Intuition, Reflective Thinking, and the Brain
Back of the net, as they say in soccer.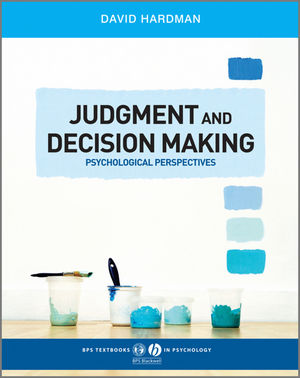 David, with others, runs the London Judgment and Decision Making Group, whose seminars I've been lucky enough to attend when I'm in town.  If Berns is right, David should be needing a larger venue.  David assures me he will be blogging on the book before too long, so I'll let you know when that happens.  We can definitely benefit from a regular dose of wisdom from this discipline.  Of course, it's a little known fact that the Knackered Hack is already one of the leading decision science blogs on the web.  It says so here. And if you are wondering how that happened, the answer remains … well … uncertain.
Photo credit: stephenphampshire
Donate and help me buy back my Fender ('About' tells you why)
Tags:
David Hardman
,
Davos
,
decision science
,
Gregory Berns
,
judgment and decision making
,
LJDM
,
neuroeconomics
,
neuroscience
,
World Economic Forum
Filed under: behaviour, book reviews, business, finance and markets, collaboration, diversity, failure, journalism, life the universe and everything, what hacks off the hack?, what knackered the hack?
|
Comment
1
I thought I should point you in the direction of a new anthology of blog posts, written by some of the leading online proponents of ancestral fitness. It'll soon be available at www.ancestralfitness.com and will make the ideal gift for the Neanderthal in your life in need of a little self-improvement.
For those unfamiliar with the concept of ancestral fitness, it describes a lifestyle philosophy which attempts to incorporate diet and exercise regimes consistent with our evolutionary biology. That translates as a diet avoiding "easy" carbs, and exercise revolving around high-intensity workouts. There's more to it than that, naturally.
Of course, top of the list of contributors is Professor Art De Vany. But why they roped in the last guy is anybody's guess. I bet he's pleased to be in such illustrious company.
Donate and help me buy back my Fender ('About' tells you why)
Tags:
Ancestral Fitness
,
art-de-vany
,
diet
,
evolutionary fitness
,
evolutionary-biology
,
exercise
,
Fractal Press
Filed under: book reviews, coaching and teaching, collaboration, competition and performance, diversity, endurance, life the universe and everything, nutrition, training, weight loss, work-life balance, writing
|
Comments
5
A few weeks ago, at an EBDM seminar at the London Business School, happiness economist Bruno Frey put up a slide entitled:-
Television weakens the will of active people.
I know that feeling. Professor Frey does without television completely, from what he said, as a route to optimising his own happiness function.
I asked Professor Frey if any similar research has been conducted in relation to the internet: as to whether the internet might do the opposite. He was not aware of any. It's hard to tell from personal experience; I'm still in the process of evaluating whether or not extensive interaction on the internet is a time-sink or a route to more expansive individual productivity. No doubt there is an optimum balance, and discovering it may be more a matter of luck than judgement. The galloping growth of social media is frequently disdained by professionals in the mainstream media; the glib response, shared by a good number of ordinary friends and acquaintances, is that these social media types (to which I now increasingly actively belong) need to get a life.
But a couple of weeks ago I interviewed Matt Mason whose book The Pirate's Dilemma: How Hackers, Punk Capitalists, Graffiti Millionaires and Other Youth Movements Are Remixing Our Culture and Changing Our World
(Allen Lane/Penguin) I'll be reviewing sometime this week, alongside some interview snippets. You can get hold of the US version here. Matt recommended a new book, Here Comes Everybody: The Power of Organizing Without Organizations (Allen Lane/Penguin) (US version available here) by Clay Shirky.
From the following video, it's clear why Matt is recommending Clay's work. Clay quantifies rather neatly in an historical context what is going on in terms of shifting patterns of behaviour, and why Wikipedia is so important to understand in a more positive light than many do. Above all, in a very amusing way, he highlights why the old-media perception of this phenomenon is so often wildly misconceived in terms of how attention is distributed these days. Of course, what Clay does not highlight is the malign possibilities of this cognitive surplus combining in the wrong way.
Thanks to Dave Morin for the pointer.
Donate and help me buy back my Fender ('About' tells you why)
Tags:
Bruno Frey
,
Clay Shirky
,
Matt Mason
,
social media
,
Wikipedia
Filed under: behaviour, collaboration, creativity, diversity, journalism, latent talent, life the universe and everything, mood, work-life balance
|
Closed
---