Archive for the 'kino' Category
As I've touched on before, I've a self-justifying preference for the intermittent, irregular, and the archive in my blog-reading and -writing.
A while ago, I heard a claim from a New York Times executive that half their traffic came from Google, and that, therefore, they loved Google. Despite suggestions to the contrary, they did not see the search-engine-cum-advertising-vehicle as a threat. But that traffic dynamic is the same for everyone, I think. So what you have done in the past resonates today with 50% of your readers. Better make sure it's reasonably good because today's story is no longer tomorrow's chip-wrappers. At the very least, make sure it is useful to you.
Vicki Baker's new blog, while republishing one of my more regrettable drunken episodes, nevertheless inspired me with how blogs can be used in a way that the great humanist and empiricist thinkers of the sixteenth and seventeenth centuries would have approved. She quotes Robert Darnton in the New York Review of Books:-
Time was when readers kept commonplace books. Whenever they came across a pithy passage, they copied it into a notebook under an appropriate heading, adding observations made in the course of daily life. Erasmus instructed them how to do it… The practice spread everywhere in early modern England, among ordinary readers as well as famous writers like Francis Bacon, Ben Jonson, John Milton, and John Locke. It involved a special way of taking in the printed word. Unlike modern readers, who follow the flow of a narrative from beginning to end, early modern Englishmen read in fits and starts and jumped from book to book. They broke texts into fragments and assembled them into new patterns by transcribing them in different sections of their notebooks."
In the end, that is more than enough justification to blog, and it was certainly partly how I conceived my first blog Not that I'm Biased (lost temporarily in a Blogspot vortex), and archived at the back end of this blog, for safety's sake. I need to index those posts into a category and tag them perhaps, as they documented my thinking from 2004 to 2006-ish. By the way, I blushed a bit when I looked again at some of them last year. But they read now much better after the credit crunch

.
Vicki's a bit of a Kino fan too. And has blogged here more extensively than I have yet on the phenomenon that was Viktor Tsoi. I invite other bloggers to join the meme. Together we can defeat those evil machines!
As a footnote, Milton's commonplace journal is currently on display at the British Library.
Donate and help me buy back my Fender ('About' tells you why)
Tags:
commonplace
,
john milton
,
kino
,
not-that-im-biased
,
Viktor Tsoy
Filed under: behaviour, creativity, kino, life the universe and everything, writing
|
Comments
4
It's funny why we recollect things. Grief triggers lots of odd-assorted memories, as I'm now re-discovering (sadly, not for the first time). But it seemed entirely random that Kino and my meeting with Viktor Tsoi were called back to mind after laying dormant for so many years.
Last autumn, as I was shuttling across Wessex to visit my dying father, I discovered the Flaming Lips. In particular, this lyric from Yoshimi Battles the Pink Robots stuck in my mind:-
Her name is Yoshimi. She's a black belt in karate.
Working for the city, she has to discipline her body. Cause she knows that it's demanding to defeat these
evil machines. I know she can beat them."
I think it was the concept of working for the state (as, in effect, most Soviet citizens did in 1986) that conjured up memories of Viktor; he was a specialist in martial arts too. He clearly possessed a particular sense of purpose when I met him; yet, despite USSR-wide fame by the time of his death in 1990, he continued with his job as a boiler-worker in a Leningrad apartment building. Check out the documentary footage below for a flavour of that.
For those awaiting more of my Kino pictures, or some more detailed explanation of my acquaintanceship with Russia's most iconic rock star, I'll start with the latter. I met him for only a few weeks in one of those weird moments of Russian history when things were thawing and it was both safe and dangerous at the same time. From this vast distance of a couple of decades, it feels a little over-the-top to describe what occurred over those few days as a friendship, but I don't have a better word for it.
It was April 1986. I was on Easter vacation from history studies at Oxford and had taken advantage of a Russian language course. Just a month earlier, Mikhail Gorbachev had delivered his first glasnost' speech to the 27th Congress of the Communist Party. Even though there was some expectation in the air that things were changing, at the centre of the state apparatus was the KGB still, and even for the casual visitor they didn't appear too far away; one or two of our Soviet friends were arrested late one night for mixing with us. Continue reading 'viktor tsoi battles pinko robots'
Donate and help me buy back my Fender ('About' tells you why)
Tags:
Fender-Telecaster
,
Flaming Lips
,
Glasnost
,
Gorbachev
,
KGB
,
kino
,
life-the-universe-and-everything
,
Perestroika
,
Russian language
,
tsoi
,
Viktor Tsoy
,
XXVIIth Congress of the Communist Party of the Soviet U
,
Yoshimi
Filed under: black swans, celebrities, creativity, endurance, kino, life the universe and everything, music
|
Comments
4
The following clip found on YouTube gives an idea of the Kino concert at which my pictures were taken. This is a different concert, obviously, because Yuri is not using the Yamaha SG but a Fender Stratocaster, as far as I can see. However, they appear to be from about the same time.
Since the the kids burned their own CD of Eto Ne Lyubov' (This is not Love) not much else has been heard in the house. As neither of them understands Russian, it is rather interesting that they should be so taken with it. It could be that they are doing what all kids will do at times of particular stress ie try to please their parents. Beautiful language as it is, liking incomprehensible Russian song lyrics seems a stretch. But the title song here is lovely. Enjoy the vid in all its amateur graininess.
The video was made using what I can only assume was a cine camera. The poster on YouTube was not the originator, telling me he was not even born at the time. But a close examination of my own pics revealed that there was a cine camera operator taking footage of the gig that I photographed too. I wonder where that footage is now and what became of the film-maker?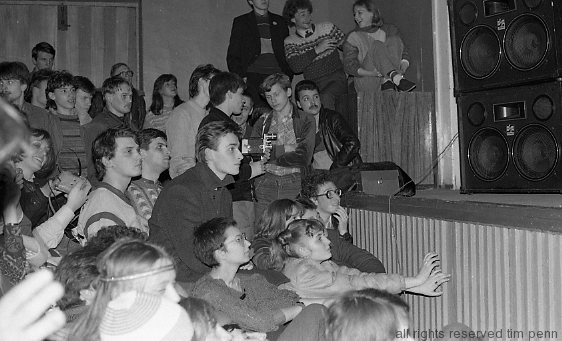 One should not forget that in 1986 the Russian campaign in Afghanistan was in full swing, and it's possible that not a few members of the audience were later victims of their military conscription.
More pictures are on their way…
Donate and help me buy back my Fender ('About' tells you why)
Tags:
kino
,
Viktor Tsoy
,
Yuri Kasparyan
Filed under: celebrities, creativity, kino, life the universe and everything, music
|
Comments
3
I try not to write on events in anything like real time. Think of it as a contrarian posture of a blogger who spent 15 years in newswires. But yesterday's reporting on the intimidation of British Council officials in Russia cuts conveniently into my current Russian reveries. It also highlights, in a small way, what I learned at a seminar I attended on Wednesday at University College London.
The kind people at UCL let unaffiliated roughnecks like me in for free at the London Judgement and Decision Making Group meetings. Terry Connolly, Eller Professor of Management and Organizations at the University of Arizona, was talking about Regret and the Perils of Decisional Improvement. His themes are some that I'll return to in coming weeks, I hope, because regrets (you guessed it), I've had a few.
When I was a student (and briefly after) I confess that I did occasionally wear bow ties. Once I'd figured out how to tie the pesky things, it was a badge of honour. With someone of my social background it represented a bit of cheap sophistication. But bow ties don't really work in the rough and tumble of a Fleet Street newsroom. So pretty soon after I started work I stopped wearing them. I still have most of the tweedy garb from that period, and it allows me to go to fancy dress parties and pretend to be Mr Toad. There are some bow-tie-wearing journalists around still, and you can learn more about their bad temper here, and how they hacked off the hack (though not really) here.
This is the story of the first bow tie I ever owned and how I parted company with it, overcoming the kind of "regret salience" that Prof Connolly describes. Continue reading 'cultural ties'
Donate and help me buy back my Fender ('About' tells you why)
Tags:
Bloomberg
,
bow tie
,
British Council
,
Leningrad
,
Pop Mechanics
,
regret
,
Viktor Tsoy
Filed under: behaviour, collaboration, creativity, endurance, kino, life the universe and everything, music, what hacks off the hack?, what knackered the hack?, writing
|
Comments
2
I've noticed bloggers apologise when talking about Andrew Keen, author of The Cult of the Amateur: How blogs, MySpace, YouTube, and the rest of today's user-generated media are destroying our economy, our culture, and our values. To quote him is to give him the publicity his faux-contrarian defence of mainstream, professional media is designed to elicit. But I'll take this opportunity to say that Keen's attack on the amateur and self-published is, in my view, a little bit Stalinistic.
I'd like to contrast the world he defends, where what we watch, hear and experience should be mediated by professionals, with one still in the recent memory where to self-publish was a political and democratic act and a gesture of defiance. Of course, there are some places still like that.
This thought came to me as I have been working on a pet project to archive some photos of Russian rock god Viktor Tsoy of the 1980s band Kino, who my Twitter followers may already be bored with me mentioning. What I have is an old hand-made cassette and a bunch of photos I took when hanging out with Tsoy in 1986.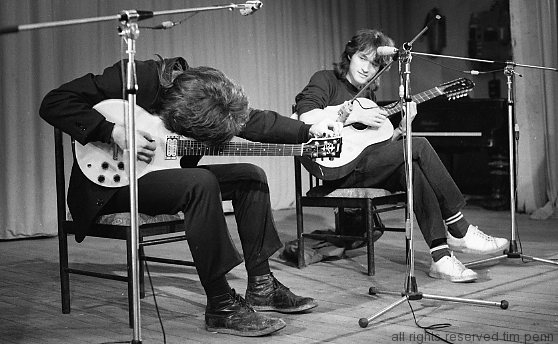 I need to come back to my knowledge of Tsoy in much more detail, but just as Yuri Kasparyan is tuning up in this picture, this post can be a small, note-bending taster of what I will aim to put up in the coming weeks.
Tsoy and Kino are noteworthy for a number of reasons in the history of 20th century culture, and arguably much more iconic than all those indie bands that we neurotic boy-outsiders modelled ourselves after in our youths — those that were invariably selling out while pretending not to. [I'm fine with that, by the way.]
Tsoy died in a car accident in 1990. So deep was his influence on the culture, 65 Soviet youth reportedly committed suicide after his death, thus compounding the individual tragedy. As an icon, Tsoy was one of those rare agencies who was breathing life back into a society that had suffered from seven decades of some of the worst repression in human history.
My most recent research on the band suggests that little if any of their material is copyright. This is not surprising because you could say that the Soviet Russian concept of self-publishing ( "samizdat" or, in the case of the cassette of their songs that I own, "magnitizdat"), was the original creative commons: copy and pass along.
What makes Tsoy the definitive amateur though was that, despite a burgeoning career as Russia's leading rock musician in the late '80s, when he was finally signed to the state record company, he reportedly maintained his employment as a boiler operator.
Well my own efforts are steadfastly amateur in so many respects that I too won't be giving up the day job

. But I must admit to some professional help in the form of my friend the artist Grahame Baker Smith, who helped me scan the first few images and saved me a lot of time by pointing me in the direction of the right technology. Grahame's work for that other rock god Robert Plant can be seen and commissioned here.
Donate and help me buy back my Fender ('About' tells you why)
Tags:
Andrew Keen
,
Creative Commons
,
Cult of the Amateur
,
kino
,
Media
,
music
,
Robert Plant
,
Samizdat
,
Stalinism
,
Viktor Tsoy
,
Yuri Kasparyan
Filed under: behaviour, black swans, business, finance and markets, celebrities, creativity, journalism, kino, life the universe and everything, music, what hacks off the hack?, writing
|
Comments
10
---