Archive for the 'what knackered the hack?' Category
Anyone who has read Gerd Gigerenzer's Gut Feelings will recall the description in Chapter 10 of how the pressure to conform creates moral hazard. A powerful heuristic or default seems to operate: "don't break ranks". Failure to adhere can result in peer hostility. The experience of Paul Moore in trying to restrain HBOS executives reveals just how powerful and enduring a force that can be, assuming he is an accurate witness to his own experience at the bank. It goes some way to explain how groupthink can operate in the face of compelling contrary evidence. To quote from his memo to Tuesday's Treasury Select Committee hearing:-
I am still toxic waste now for having spoken out all those years ago!
This might also reflect why today's FT report leaking of an "independent inquiry" into Paul Moore's allegations contained the following observations from the HBOS directors of his behaviour. A case of shooting the messenger?
They told KPMG that while Mr Moore's technical abilities were "recognised as strong" and he gave his team a "strong sense of purpose", they doubted his ability to work with his colleagues. His behaviour in one meeting was described by people interviewed by KPMG as "ranging from prickly to ranting to extraordinary to outrageous".
For those not following these events, Moore was the head of Group Regulatory Risk Management for HBOS until 2005. He alleges that he argued with the board that HBOS's sales culture was running out of control, creating huge risk for the bank should the economy and housing market turn downwards, and that there was a reluctance on the part of executives to have their decisions or behaviour challenged. At the time, HBOS CEO James Crosby dismissed his concerns and terminated his employment. Crosby then moved on to become deputy chairman of the Financial Services Authority. He resigned yesterday morning.
The full text of Moore's memo is here. For the time being, it may be one of the most readable and historic documents of modern finance. One suspects there will be others.
Well, in his deposition to the Treasury Select Committee Moore mentions it, but I doubt that this five-minute module is mandatory yet at any business school. Let me know if I'm wrong.
Photo credit: Tim Penn
Donate and help me buy back my Fender ('About' tells you why)
Tags:
credit-crunch
,
Danny Kaye
,
don't break ranks
,
Gerd-Gigerenzer
,
groupthink
,
Hans Christian Anderson
,
HBOS
,
heuristics
,
James Crosby
,
Paul Moore
Filed under: behaviour, black swans, business, finance and markets, collaboration, competition and performance, diversity, failure, life the universe and everything, stress, what hacks off the hack?, what knackered the hack?
|
Closed
A recent controversial report from the University of Buckingham found that UK schools specialising in music produce better physics results than those specialising in science. And then education watchdog Ofsted reported that half of the schools it had inspected lacked adequate provision for music education, that music teachers felt marginalized or isolated and did not receive the developmental opportunities they needed.
A couple of years ago Howard Goodall — who in this country is fast becoming to music what David Attenborough is to natural history — was given £10 million to expand the use of singing across the curriculum in primary schools. It was highlighted then that singing could be instrumental in the learning of a variety of subjects but that many teachers lacked confidence to deliver any musical experience at all for their students. A further £40 million or so seems now to have gone into the Sing-Up campaign.
Where teacher confidence is absent, I understand there are cascading techniques to spread music from older to younger children. Perhaps the Sing-Up promotional video hints at that:-
When something's not working, or some kind of competitive differentiation is needed, there is a strategy (described by Scott Page) called "do the opposite". So here's a wild idea. Why don't we give Howard Goodall the entire national education budget, not just £50 million, and then see what happens? I'd bet things would not get worse. And there's an outside chance we'd solve many more of our educational difficulties than our current pragmatic approach, in particular the social problems that arise from the inability of barely literate children to take their proper place in an increasingly knowledge-intensive economy.
A whole chapter in a book of knackeredness could be devoted to the brokenness of modern musical experience. Music tends these days to be consumed rather than practised. The neat thing about Sing-Up is that it seems to be using technology to reverse this.
The institutions for participation in music are rightly or wrongly mostly organized by the classical music tradition, because that is where the majority of skills to perform and teach resides. But there exists now a kind of philistinism that has separated this world from the bulk of the population, as parents (and I suspect many teachers) prefer something more familiar and accessible (to them) from the world of pop. But in the past, whether it was colliery bands, or church choirs, quite serious music could be a source of social cohesion and, for the able person, a technology for social mobility.
Teaching children songs is a gift they keep for a lifetime, but the repertoire on offer seems to be diminishing. Sing-Up has its own Song Bank of high quality musical assets, which parents as well as schools can draw on. No matter how much music of whatever genre gets played at home, when a child really learns a song so that they can sing it out loud, and with others,  something more than just notes and words are rehearsed: a whole neurological, physiological and social complex gets activated. (Don't tell anyone, but computer games, even I suspect Guitar Hero, don't do that.)
When I was in primary school, the very flamboyant cathedral organist cruised in once a week in his rather incongruous metallic lime green Ford Mustang Mach I complete with thunderous tailpipes. We crowded his arrival, and believed, apocryphally, that this exotic vehicle (for small-town Yorkshire c1972) contained its very own mobile phone. He taught us folk songs from across the centuries, and from a standard school songbook. What a breath of fresh air if every child these days could sing the following paean to human fragility; it was my favourite.You wouldn't catch a self-respecting pop musician touching that material these days, now would you?
Donate and help me buy back my Fender ('About' tells you why)
Tags:
Howard-Goodall
,
Sinead O'Connor
,
Sing-Up
,
singing
,
social mobility
Filed under: behaviour, coaching and teaching, collaboration, competition and performance, creativity, diversity, failure, latent talent, life the universe and everything, mood, music, what knackered the hack?, work-life balance
|
Comments
6
Gregory Berns, a professor of neuroeconomics at Emory University and author of Iconoclast: A Neuroscientist Reveals How to Think Differently(UK)/(US), was interviewed this morning on Radio 4′s Today programme exploring the role of neuroeconomics in understanding the current crisis.  He's in Davos for the World Economic Forum, with all the large fromages.
Back in the day, the Knackered Hack used to dispatch a team of reporters to Davos. Press places were then scarce.  Now I'm watching it all on Twitter, my very own self-organizing newswire, and tossing in the occasional iconoclastic observation of my own.  Who-da thunk it?  Everyone and his dog seems to be there; some shuddering, and not from the cold.
Berns message was about as negative as you can get when considering the current crisis.  He deftly applied the old-dog-new-tricks teaching heuristic to an entire generation:-
One thing that we know is when people make decisions that they are uncertain about is that they look to other people… We have seen along the way how other people's opinions essentially pollute those judgments. Now,  modern markets are great. Now, economists like to talk about efficient markets and all of that, but the problem is that they are only efficient when people behave as individuals and render independent judgments.  Now I would probably go as far as saying the current crop of adults is a lost cause in that I think we should be focussing our efforts on the next generation and how to teach them to make judgment that are independent of each other and stop this crazy herd behaviour.
So there you have it.  All current adults are sheep.  Better cancel the Twitter account

.  You can listen to the whole thing here.  I think it was edited, so there may be some context missing and the above quotation therefore not adequately representative. That's mainstream media for you.
All that said, like a dog barking in the wind, I myself did tweet the following just a few weeks ago:-
Haunted slightly by counterfactual sense the boom promoted an entire generation of the wrong type of manager"
I'll come back to that idea soon, I hope.  But in the meantime, given Berns' imperative that we focus on the cognitive capacities of the next generation, it was a neat little coincidence that a review copy of a new textbook by David Hardman, entitled Judgment and Decision Making, arrived in the post yesterday from Wiley. US version available here.  Just take a look at the contents:-
Introduction and Overview: Judgments, Decisions Rationality
The Nature and Analysis of Judgment
Judging Probability and Frequency
Judgmental Distortions: The Anchoring-and-Adjustment Heuristic
Assessing Evidence and Evaluation Arguments
Covariation Causation, and Counterfactual Thinking
Decision Making under Risk and Uncertainty
Preference and Choice
Confidence and Optimism
Judgment and Choice over Time
Dynamic Decisions and High Stakes: Where Real Life Meets the Laboratory
Risk
Decision Making in Groups and Teams
Cooperation and Coordination
Intuition, Reflective Thinking, and the Brain
Back of the net, as they say in soccer.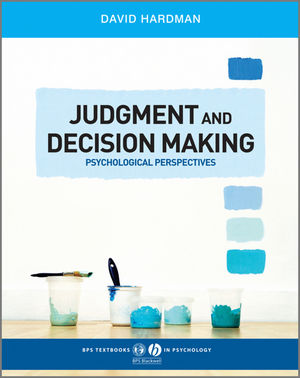 David, with others, runs the London Judgment and Decision Making Group, whose seminars I've been lucky enough to attend when I'm in town.  If Berns is right, David should be needing a larger venue.  David assures me he will be blogging on the book before too long, so I'll let you know when that happens.  We can definitely benefit from a regular dose of wisdom from this discipline.  Of course, it's a little known fact that the Knackered Hack is already one of the leading decision science blogs on the web.  It says so here. And if you are wondering how that happened, the answer remains … well … uncertain.
Photo credit: stephenphampshire
Donate and help me buy back my Fender ('About' tells you why)
Tags:
David Hardman
,
Davos
,
decision science
,
Gregory Berns
,
judgment and decision making
,
LJDM
,
neuroeconomics
,
neuroscience
,
World Economic Forum
Filed under: behaviour, book reviews, business, finance and markets, collaboration, diversity, failure, journalism, life the universe and everything, what hacks off the hack?, what knackered the hack?
|
Comment
1
What has the French Horn to do with the science of uncertainty? The Economist review of journalist Jasper Rees's book I Found My Horn may have nailed it.  The book chronicles Rees's mid-life crisis in which he picked up his childhood instrument rather than running a marathon

.  It's now being published in the US as A Devil to Play: One Man's Year-Long Quest to Master the Orchestra's Most Difficult Instrument.  More pertinently, a play starring co-writer Jonathan Guy Lewis opens this very night on the London stage.
What makes the horn quite so hard to play is the length of tubing necessary to produce its tonal range; despite three valves, it is very easy to hit the wrong note, or fall off the right one. There's a level of doubt about each outcome that does not trouble other musicians to quite the same degree.  Even professional orchestral players are more exposed than most to public musical catastrophe, because of the horn's expressive value to composers.  For this, among other reasons, horn players are considered a breed apart.  This is how Simon Rattle puts it:-
You never eyeball a horn player. You just don't. They're stuntmen. You don't eyeball stuntmen when they're about to dice with death."
Given the Knackered Hack's quest for antidotes to hubris, perhaps mastery of the horn (if that is not a contradiction in terms) should be considered an essential qualification for public or corporate office?  I've noticed that this website seems to attract a disproportionate number of horn players (at least two).  Perhaps there's a connection? You can purchase a CD by one of those readers below.
[By way of full disclosure, the Knackered Hack was placed first in the under 12s brass section of the Harrogate Festival in 1976, performing the second movement of Mozart's Fourth Horn Concerto K495, cough...

]
Photo credit: vtengr4047
Donate and help me buy back my Fender ('About' tells you why)
Tags:
french horn
,
hubris
,
Jasper Rees
,
Jonathan Guy Lewis
,
Mozart
,
Simon Rattle
Filed under: book reviews, competition and performance, creativity, failure, journalism, latent talent, life the universe and everything, music, recovery, stress, what knackered the hack?, work-life balance
|
Comments
4
The BBC announced spending cuts last week, fearing that the recession will lead to TV licence fee evasion and reduced revenues. According to the FT,  it banned the corporate purchase of champagne in a sop to the newspapers, after being forced to reveal an annual spend on the bubbly stuff of £40,000. Of course, if the BBC had something to celebrate, this expenditure–provided it was on Veuve Clicquot–would not look like such a mistake. Meanwhile, on Tuesday, the Beeb brass were defending themselves in Parliament for the Brand/Ross/Sachs scandal.
It's bad to bash the BBC if you get a lot out of the BBC, as I do. But it does often seem to be an organization that has lost its way. It remains somewhat technically innovative, although with unintended consequences (iPlayer), produces good costume dramas (Jane Austin/Dickens etc), entertains the kids well on Saturday evening (Dr Who, Robin Hood, Merlin) and continues its flagship natural history programmes, although these are starting to be more photographic than informational. Don't tell anyone, but for the past few months I've come to believe that Radio 3 might actually be perfect.
More generally, though, its editorial and commissioning decisions seem not to be informed by either a current or future sense of what its public service needs to be. I'm waiting for the day, for instance, when its senior management is hauled before the UK's Treasury Select Committee to answer questions about the role its programmes on property played in fuelling the real estate bubble.  But then, I wonder if the committee members have yet gotten round to reading any Robert Shiller. This, of course, is old news, well visited by belligerent websites, and even mainstream newspapers have pointed a similar finger, except of course that their own property supplements played an essential part in peddling the idea that rising property prices were for keeps.
But given that we are now at the end of a period of speculative excess, that we collectively passed the last outpost of the Shit Creek Paddle Company
some time ago and failed to take on supplies, it is hard to explain a programme I saw last week called Beat the Bank. Dragons' Den fitness millionaire Duncan Bannatyne invited a young couple to wager their £10,000 house deposit on the abilities of one of three alleged experts to exceed the return from bank interest over three months.
The leading experts brought in were from the world of fine wine, antiques and fine art. Charming though these people were, they represented markets one could reasonably assume are highly correlated with the recent credit-fuelled boom,
and not without their own fair share of fakers and finaglers to make the average punter's chance of "beating the bank" slim at best.
But what bothered me was the premise that money in the bank was for schmucks. And none of us would want to be schmucks. The opposite in fact is true. Most of us are schmucks, and the bank is the best place for our money. The social service that the banks provide, or should provide, is as a repository of funds where we (the clueless, idle, or generally insecure) should choose to lay down our hard-earned, our windfalls and our easy-pickings, while the bank lends it out with discretion and on reasonable terms to the those with ideas, the adventurous, the quiet risk-takers, entrepreneurs and even the occasional desperado, each individually to try their luck: to fail, break-even or succeed, and on balance pay us back a decent rate of interest. All that while keeping the bank in sturdy buildings, functional IT, an occasional boozy lunch and not to forget the annual bonus payment–which should be conditional and deferred by 10 years (at least).
The idea that we should set a challenge to deliver excess returns over a three-month period flies in the face of all that a public service broadcaster should be providing in way of financial education. It would not be so bad if the three-month expectations cycle did not already blight the ability of many publicly-listed firms to deliver sustainable economic growth, lure them into all sorts of obfuscation or encourage all sorts of counter-productive hoop-jumping to appear to be performing satisfactorily.
If there's a lesson that the BBC might better highlight to the risk-taker–whether in the domain of business, art, or experimental science, or even for those planning to cultivate a great vintage– it's that you may have to bleed for forever and a day waiting for your ship to come in, before the muse descends or that eureka moment arrives, or some final vindication materializes from out of the blue. Then you'll feel justified in tearing off the foil, untwisting the wire and popping your cork.
Veuve Photo credits: Top: Andrei Z , Middle: Matt Hamm, Bottom: jillclardy
Paddle Shop:  SailorRandR
Donate and help me buy back my Fender ('About' tells you why)
Tags:
BBC
,
credit-crunch
,
Dragons' Den
,
Duncan Bannatyne
,
hubris
,
luck
,
risk
,
Shit Creek Paddle Company
,
speculation
,
Veuve Clicquot
Filed under: black swans, business, finance and markets, celebrities, competition and performance, creativity, endurance, failure, life the universe and everything, what hacks off the hack?, what knackered the hack?
|
Closed
---