Twitter showed its worth when @ryansholin announced (at least, it was news to me in landlocked Bath) that Maverick's – the annual big wave surfing event in Santa Cruz, Northern California — was convening this past weekend. The organisers called it last minute on Friday. All the young dudes rushed in to catch the notoriously huge Pacific west-by-north-west swell on Saturday.
Ryan, who blogs on the changing face of journalism, works for used to work for the Santa Cruz Sentinel, but recently moved to GateHouse Media, a large publisher of highly local print and online publications. Maverick's is in his back yard. He pointed us to the Maverick's website, where I spent enough time looking at 2006 wipeouts (see below) to end up with a headache. It didn't take long.
Just in case you think I'm suffering from apostrophe failure, "Maverick's" is short for "Maverick's Point" — Maverick being a white-haired German Shepherd dog whose human surfing companion was reputedly one of the first to try the giant waves near Half Moon Bay back in the '60s. The dog tried to swim out to join his surfing buddy, but the conditions were too treacherous and he had to be tied to the car bumper instead for his own safety.
Surfing heaven, sailing hell
I could not have cared less about surfing a few months ago. I'd seen crazy folks surfing mid-winter in Cornwall, desperately seeking even the tiniest waves in full wet-suits, while I stood (marginally less frozen and windswept) safely on shore. British surfing culture, such as I imagined it, left me cold; old surf-bum cliché mashed up with the with teenage surf fashion — who needed it?
It wasn't that I didn't have an affinity for the sea. I spent my twenties sailing a yacht most weekends and studying navigation on Tuesday evenings at night school in very non-coastal Parliament Hill, North London. I'm qualified as a Royal Yachting Association coastal skipper, hold the obligatory VHF radio operator's licence, and can confirm that yachting in the home waters of the UK is indeed like standing in a cold shower tearing up £20 notes. Who needs that either, frankly?
Crucially, though, for a yachtsman, the place where land and sea meet when the wind is blowing onshore is a no-go area. The lea shore that is surfing heaven is the sailor's total nightmare.
But last summer in Devon, my aversion to surfing changed. It was so wet on land in August that, having been rained on solidly in our camp site for several days, we thought we might just as well embrace our dampness and at least add the wind-protective qualities of neoprene. Courtesy of Loose-fit in Braunton (the world's first carbon-neutral surf shop, they assure me), we invested in some state-of the-art suits and plunged into the foam at Saunton Sands, encouraged by the Loose-fit slogan: "Hang Loose in the Juice." We were only on trashy bodyboards, purchased at the beach-side store, but it was surprisingly exhilarating. It transformed a holiday that would have otherwise been a washout.
Flush-through
As a non-scientist, what intrigues me about surfing and sailing, particularly when it comes to understanding and managing risk, is that they embrace and expand your knowledge of the non-linear. For instance, the Beaufort Scale for wind strength (which yachtsmen must learn to determine how much sail to carry, and what course to chart, and whether to go out at all) goes from 1 through to hurricane 12. But clearly a hurricane is not just twice as strong as Force 6; in fact, it's at least three times the wind strength, and produces more than 4.5 times the wave size.
When I did a search of Art De Vany's blog, as I'm wont to do when I want to understand something complex, it immediately threw up the insight that surfing is what de Vany describes as a "power law" activity. And that was what struck me when a large wave unexpectedly up-ended me (not for the last time), and I experienced the sensation that surfers call "flush-through" or "wash-thru": when the ocean breaches the sea-defence that is your wet-suit's collar and your nether regions get flooded with icy cold water, rendering you a human washing machine on a particularly vigorous rinse cycle.
Now, Ryan, at Invisible Inkling, talks a lot about the wave of change that is causing journalists and publishers to experience some of that metaphorical cullion-tightening wash-thru too. He urges journalists to re-skill, get blogging, Twittering and exploring social networks. Because newspaper circulations are falling, and revenue models that can guarantee the future of serious news-gathering are so far proving highly elusive.
Riding the wave
Putting these two things together reminded me of my own youthful Jeremiah pronouncements and specifically a now somewhat banal — but nonetheless prescient — observation I'd made in a meeting in 75 Wall Street way back in 1996, when I was London bureau chief for Knight-Ridder, and the idea of monopolising the Internets was just a twinkle in the young eyes of two 23-year-olds called Page and Brin.
I'd been summoned for meetings there with my fellow news managers to strategise the recovery of the Knight-Ridder international newswire that had spent several months passing through the uncertainty of an auction before being acquired from the Miami-based newspaper company (then still a thriving independent entity as one of the two largest publishers in the US) by venture capitalists.
I forget how many staff we lost precisely, but we were at least fully decimated. Fearful of acquisition by a competitor and enforced redundancy, so many had left seeking greater security, often with said competitors.
Private equity firm Welsh Carsen Anderson & Stowe, the firm that had bought us, had a bold strategy to overturn Reuters, Dow Jones-Telerate, and the emergent Bloomberg, and capitalize on a wave of financial market disintermediation by being the first company in the financial information industry to apply internet protocol. They acquired a bunch of information companies, ripped out their proprietary networks and technologies, and introduced standards.
WCAS already owned what it claimed was the world's largest private intranet, contested only at that time by Hewlett Packard. After buying us, WCAS tried to buy that doyenne of early internet adopters, Compuserve, too. They had the blessing of — and not a small amount of investment from — the world's largest banks and pension funds. At one point Tour de France winner Lance Armstrong was our official spokesman. Continue reading 'the maverick's story'
Donate and help me buy back my Fender ('About' tells you why)
Tags:
art-de-vany
,
collaboration
,
EMI
,
failure
,
Gerd-Gigerenzer
,
hubris
,
Jeff Clark
,
journalism
,
Knight-Ridder
,
Larry Page
,
luck
,
Mark Foo
,
Maverick's
,
music
,
Northern-Rock
,
recovery
,
sailing
,
Sergey Brin
,
surfing
,
Terra Firma
Filed under: behaviour, black swans, business, finance and markets, collaboration, competition and performance, endurance, failure, journalism, life the universe and everything, music, recovery, sports, what hacks off the hack?, what knackered the hack?
|
Comments
3
I grew up in a family dominated by the internal combustion engine. My father raced motorbikes as a young man and once lay for dead in a ditch for several hours after a crash. He was lucky. Eventually somebody spotted him and pulled him out, and his skull was patched up with some nifty metalwork. This fact alone is enough to remind everyone in the Knackered Family of the low probability of us being alive at all.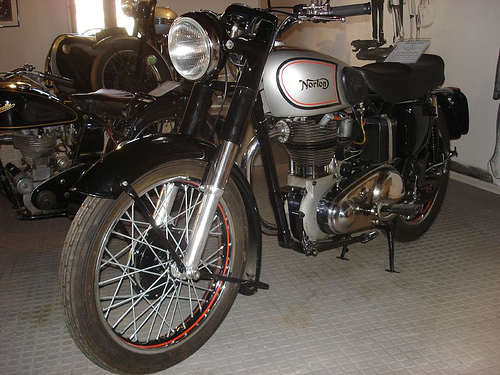 This 1951 Norton ES2 (courtesy of Michel 67 on Flickr) is identical to one owned by Knackered Père. By the way, Che Guevara set off across Latin America the following year with Alberto Granado on a 1939 model called 'La Poderosa II', or 'The Mighty One'. See the 2004 film dramatization, The Motorcycle Diaries.
Though my childhood was spent in close proximity to the motor industry, I wasn't always interested in it. And it is not entirely surprising that only a few days after my father passed away I missed the moment when a major milestone Continue reading 'a robot is for life, not just for christmas (lego version)'
Donate and help me buy back my Fender ('About' tells you why)
Tags:
-finance-and-markets
,
behaviour
,
business
,
collaboration
,
competition-and-performance
,
creativity
,
guevara
,
lego
,
life-the-universe-and-everything
,
mindstorms
,
neurology
,
norton-es2
Filed under: behaviour, business, finance and markets, collaboration, competition and performance, creativity, life the universe and everything
|
Comment
1
Tweet In full culture-vulture mode, the Knackered Family went to two live musical concerts this weekend. Both events featured largely acoustic instrumentalists, accompanied by a narrator. And both served to remind us that live performance offers an extra, magical dimension that recorded music can't. But one event also provided perfect grist for the Knackered mill […]
Filed under: behaviour, black swans, business, finance and markets, celebrities, collaboration, competition and performance, creativity, failure, music, writing
|
Comments
2
I'm going on a phone hunt.
I'm going to catch an iPhone.
It costs almost £1000!
I'm not scared.*
In truth, I am scared because I have never bought a Steve Jobs product directly, except things like the movie Toy Story. That doesn't count because I think it is true to say that Pixar got successful when Jobs was looking the other way trying to recreate Apple at NeXT and only partly succeeding. iTunes is free, so that does not count either, and I would have bought the two album downloads and two individual tracks anyway.
My current MP3 player is in my Windows smartphone, so unfortunately I have to be geeky enough to figure out Media Player and its odd syncing protocol. I am, for now, an iPod-free zone.
For a long time I operated what you might call a "Best Nokia Heuristic", i.e. just buying the best phone that Nokia makes. This was a business decision that started when I bought the earliest GSM phones to equip my team of reporters at Opec meetings (there goes another Opec reference, folks!).
It had been preceded by another heuristic — the "It Must Work in a Lift Heuristic". Only Nokias did at that time. Eccentrically, I would also test them by descending into the basement area of the Espree Health Club behind Fleet Street. The staff at Charles Dunstone's Carphone Warehouse, still in the early days of its emerging success story, was always very obliging with demo product. This particular rule of thumb derived from a most extraordinary moment Continue reading 'i'm going on a phone hunt'
Donate and help me buy back my Fender ('About' tells you why)
Tags:
-finance-and-markets
,
Apple
,
behaviour
,
business
,
celebrities
,
collaboration
,
competition-and-performance
,
creativity
,
iPhone
,
iPod
,
journalism
,
life-the-universe-and-everything
,
new-technology
,
newswire-journalism
,
Opec
,
Steve-Jobs
,
what hacks off the hack?
Filed under: behaviour, business, finance and markets, celebrities, collaboration, competition and performance, creativity, journalism, life the universe and everything, what hacks off the hack?
|
Comments
3
Tweet Gerd Gigerenzer's new book, Gut Feelings: The Intelligence of the Unconscious (Allen Lane, £14.99) has been troubling me for some time. It's the kind of book whose title, like The Wisdom of Crowds, is going to mislead a few people. There are already a few too many out there who worship their own gut […]
Filed under: behaviour, book reviews, business, finance and markets, collaboration, competition and performance, creativity
|
Comments
3
---