Great Britain again dominated the World Track Cycling Championship at the Manchester Velodrome this weekend. I watched only briefly, taking a break from the Twitter stream to see an interview with team psychologist Steve Peters.
Peters is something of a phenomenon, if not a genius; Undergraduate Dean of Sheffield University, much in demand in a variety of UK sports, he's a sometime visitor to the England rugby training camp here at the Sports Training Village in Bath — which, by the way, seemed to be a secret he did not want told on national TV.
But most interestingly, perhaps, he is a former forensic psychologist, who spent many years working in Rampton Secure Hospital, exemplifying our own belief here at Knackered Towers that the study of that which is broken yields useful lessons if you want to succeed.
If that were not enough, the unassuming Dr Peters is a highly competitive Masters M50 sprint champion (that's running fast for old folks). His training regimen, discussed here, would likely pass muster with that most eminent of critical thinkers on all things sporty, Professor Art de Vany. It's very unorthodox.
Now, recently I've been tempted to comment on Reuters' CEO Tom Glocer's blog, but held back. Tom was talking about national character, negativity and optimism. If I understood his point correctly, he was saying that if only you think positively, good things will follow (that was the post title in any event). He referred to the need for an optimistic outlook, drawing on the athletic coach and the self-talking salesman as examples.
You can't really argue with that. Except that, as Ed Smith painted in his book, the truth is a lot less certain and requires a more subjunctive qualification: think positively and good things might happen. The corollary being, think negatively and it ain't gonna happen, not now, not never. And that's more my own experience; as Woody Allen would have it, 80 pct of life is about turning up.
But, in my own corporate experience, positivity and negativity tend to be understood in very binary terms. And because of that, useful information about how products could be improved (or an organization better configured) does not flow freely up the ranks. With tools like wikis, of course, it now flows much more freely across reporting lines, if managers take the step to encourage their use. And it flows pretty freely among the folks who stand outside the office smoking, but let's not go there.
Returning to individual and team confidence, what Peters had to say was quite brief but highly nuanced. What was clear was that positive thinking, and the psychological tools needed to create it, were not straightforward: they were specific to the individual, but also situational depending on the person, whether a team was involved, the type of event, the coach, championship and location. What mattered was educating athletes into how their minds worked, what trigger points led to negative emotions, and how those could be turned around.
Vicky Pendleton, the diminutive and self-confessed "girly girl" who won two gold medals and a silver over the weekend, had lacked confidence, according to Peters, when he started working with her. But he described how she had been able to train herself to turn her mood around within 10 minutes of a setback.
Peters explained how large events, such as the Olympics, create a huge range of distractions (from transport to security) each of which will affect each athlete differently, and for which all need to be prepared if they are to secure their own best chance of success.
What makes sport an interesting crucible through which to understand performance these days is that there is just so much of it, it is so professional, and there is so much research (physiological, neurological, psychological) . And it produces characters like Peters, Martin O'Neil and Ed Smith.
Sportsmen and women are dealing with the most intense of situations in which their vulnerabilities are very public, even on a day-to-day basis in training. They have a lot of complex information to understand, and failure to self-manage can quickly lead to injury, loss of form, loss of a place on the team, loss of funding, denial of access to quality coaching, etc. And that ignores the consequence of a random fall or illness at a critical moment in a training schedule. This cascade gathers its own momentum because at each stage the athlete finds him or herself increasingly isolated, so the reversal becomes commensurately difficult to effect.
It should not be forgotten, and if you have ever trained really hard you will know, that resulting sharp mood swings can affect motivations and relationships outside of the sport as the body and mind adapt and recover from the process of extreme exertion. Indeed, a protracted bad mood is a sign of over-training syndrome which is very hard to pinpoint in oneself until it's too late, and takes a surprisingly long time to recover from.
There don't seem to be enough Steve Peters to go round sport, let alone international business. I wonder how we should go about making more?
Photo: British Cycling
Donate and help me buy back my Fender ('About' tells you why)
Tags:
cycling
,
optimism
,
overconfidence
,
Reuters
,
Steve Peters
,
Tom Glocer
,
Vicky Pendleton
Filed under: behaviour, business, finance and markets, coaching and teaching, collaboration, competition and performance, endurance, failure, illness and injury, journalism, life the universe and everything, mood, olympics, recovery, sports, stress, training, what knackered the hack?, work-life balance
|
Closed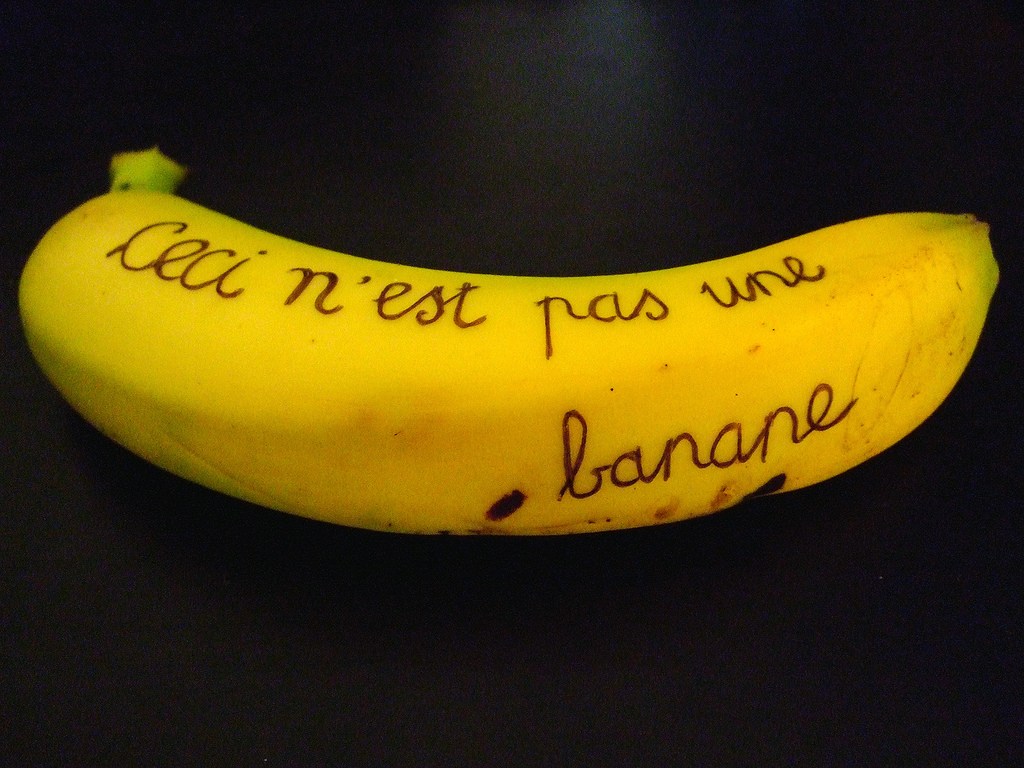 Bonking. It's not such a good idea to mention this in polite company, unless you're amongst cyclists. You'll find that "bonking" means something quite different to these athletes. Whilst for most of us (in the correct circumstances) the idea of "a bonk" would normally be welcomed, for the cyclist it's something to be avoided.
I used to understand "the bonk" as a sensation felt by a competitor towards the end of a Tour de France stage, where all the glycogen or fuel stores in their muscles has been exhausted. They've hit what marathoners call "the wall". They are basically out of gas*.
For many years I commuted by bike between Twickenham (in West London) and Fleet Street. I would ride hard and fast. I knew nothing about modulating effort or recovery. And this intensity of a monotonous daily activity, I now understand, led to overtraining syndrome.
On occasions I'd cycle home late in the evening, perhaps delayed by a transatlantic conference call. I'd have eaten a chocolate bar (usually Snickers) earlier in the afternoon. By halfway, where I crossed the Thames at Putney Bridge (the famous start of the Boat Race) I was in an unexplained state of collapse, as if I had rowed stroke to the Mortlake finish for the Oxford eight. My head was light, my legs were leaden, like I was pedaling through treacle. Ready to faint, I'd dash to the nearest gas station and stuff my face with potato chips*.
I used to joke that these episodes were "the bonk", thinking that I was probably misusing the term. Because how could 6 miles pretty much on the flat equate to a professional stage over the French Alps? However, while reading Art De Vany's blog only a few weeks ago, I saw the term "bonk" applied to just such a modest implosion, and it gave me pause. It seemed to be saying something about my metabolism which confirmed a growing intuition that I had been, was, or was becoming, somewhat insulin-resistant.
The really bad part of all this is that there are a lot of high insulin people out there who can "bonk" from low blood sugar if they don't get their carb hit. And then after the hit wears off, they may "bonk" again. They may be driving when this happens and are easily angered and lose concentration. They can be a danger to themselves and others when this happens. I would bet a fair number of auto accidents could be traced to blood glucose/insulin surges."
And when you're on a bike, you don't want to meet those people coming the other way.
So, since Christmas I've been trying to apply De Vany's paleo diet strictures (which have informed some of my thinking for a while now) with much greater observance. The effects on my current health — as far as I can determine — have been tangible, and arguably dramatic.
Way back in those glorious days when I used to dash home on my hand-built pillar-box red Condor racing bike, with its 27 gleaming Campagnolo gears (see below) I figured out a strategy to see off the bonk.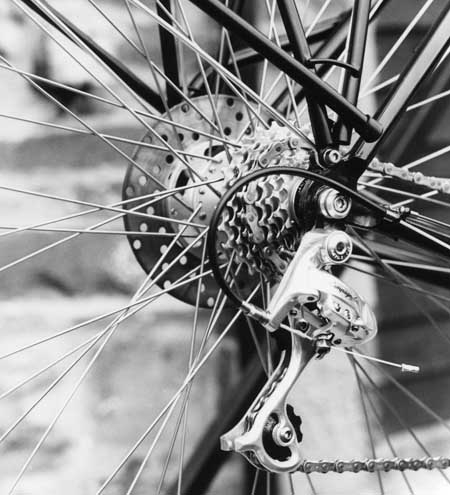 I called it "bringing the banana forward". This terminology caused much mirth among my Canadian in-laws at the time. But I'd realised one thing about diet through this experience: the mid-afternoon Snickers bar was the principal cause of this strange loss of fuel-supply by late evening. I cut that out and ate a banana just before leaving the office instead. But that did not immediately do the trick. I guessed this was because, depending on how ripe a banana is, it can break down into sugars quite slowly. Timing the banana became an obsessive-compulsive ritual ahead of my evening departure. I eventually solved the problem by eating the banana a little earlier – i.e. bringing the banana forward.
Now, what De Vany's blog was describing was in the context of hypoglycaemic episodes. The essence of much of this is that you don't have to be diagnosed diabetic to experience wild swings in energy, attention, and perhaps even consciousness. In short, too many carbs at the wrong time can drive you bananas.
* I have self-consciously americanized this post, so apologies to all my British readers who expected to see the words "petroleum spirit" and "crisps".
Photo credits: banana -eko- , campag: knackeredhack
Donate and help me buy back my Fender ('About' tells you why)
Tags:
art-de-vany
,
cycling
,
diabetes
,
diet
,
hypoglycaemia
,
insulin resistance
,
overtraining
,
paleo-diet
,
training
Filed under: behaviour, competition and performance, endurance, failure, illness and injury, life the universe and everything, mood, nutrition, recovery, sports, stress, training, weight loss, what knackered the hack?, work-life balance
|
Comments
8
Tweet More from knackered downunder A campaign by the Australian cycle industry to show that cycling is not dangerous – in fact, fairly safe – can't be easily dismissed as a simple exercise in self-interest and it quotes some interesting academic proof. According to the Cycling Promotion Fund's website, choosing not to cycle because of […]
Filed under: stress, work-life balance
|
Comment
1
UK Sport is highlighting its talent transfer scheme in an effort to boost the country's medal chances in the 2012 London Olympics. Some people have dismissed this as a tactical move, not dealing with the core long-term issues of lack of British success, particularly in athletics. But it has a lot of merit. As UK Sport says:-
"to date many transfers have succeeded due to a stroke of luck and personal intrigue rather than judgement. The Talent Transfer Programme aims to change that, introducing a more proactive, systematic approach to searching out those athletes already 'primed' for podium success."
UK Sport highlights the example of Shelley Rudman, a former 400m hurdler who switched to skeleton bob and won silver at the Turin 2006 Winter Olympics. Shelley trains at Bath University.
In marathon running, one of the more famous examples of transfer was that of Jack Foster, a Liverpool-born New Zealander who switched from competitive cycling where he'd failed to excel by his early 30s. Foster won the 1974 Commonwealth silver medal for New Zealand aged a few months short of his 42nd birthday. He set a Masters (over 40) world record of 2:11:18s – a time that would have earned 12th place in last year's London marathon, and would have won the first race in 1981.
Donate and help me buy back my Fender ('About' tells you why)
Tags:
athletics
,
cycling
,
Flora-London-Marathon-training
,
late-bloomers
,
latent talent
,
life-the-universe-and-everything
,
London-2012-Olympics
,
olympics
,
sports
Filed under: latent talent, life the universe and everything, olympics, sports
|
Closed
There is a great book by Nassim Nicholas Taleb called Fooled by Randomness, which examines the role of luck in all areas of life, particularly business and investing.
Taleb is a professor of mathematics and a derivatives trader. Not much to do with sport. But his business is complexity. There is something in statistics called "survivorship bias". There is a danger that what we measure excludes those that have fallen by the wayside, distorting our view of the world.
Sport is a bit like that when it comes to injury and overtraining. The winner is the best on the day, and not necessarily the best over time. What we certainly don't see at all are the no-shows, the non-runners, the might-have-beens. Imagine England's rugby performance over the past few years if Jonny Wilkinson had not been injured.
Taleb is a fitness fanatic and keen cyclist. He says he is not interested in competitive sports, so he does not offer much to help an athlete understand success, except to offer the proverbial observation that a baseball hitter is normally cursed when he appears on the front of Sports Illustrated as it is normally followed by a reversal in fortune. (Mathematically, the previous winning streak was in fact an unsustainable run of luck).
In competitive sport, luck is not very likely to take an average athlete to a gold medal. But bad luck will certainly remove good prospects from the population of potential winners. Reducing that component of luck is what athletes strive for. In my own more modest marathon ambitions, I'm trying to do the same. Except there is not any pressure to win, just a pressure to turn up. That is not a small pressure, and if you are raising money for a charity, that pressure builds the nearer you get to the day. I ran my first marathon injured and while still recovering from a virus, dangerously toughing it out so as not to let down those who'd sponsored me.
Continue reading 'luck, latent talent and training'
Donate and help me buy back my Fender ('About' tells you why)
Tags:
athletics
,
behavioural-economics
,
coaching and teaching
,
coaching-and-teaching
,
cycling
,
elite-sports
,
failure
,
Flora-London-Marathon-training
,
heart-rate-monitors
,
injury
,
Jonny-Wilkinson
,
latent talent
,
life-the-universe-and-everything
,
London-2012-Olympics
,
luck
,
marathon
,
olympics
,
overtraining
,
recovery-based-training
,
Roger-Bannister
,
sports
,
sports
,
training
,
UK-Sport
Filed under: coaching and teaching, failure, latent talent, life the universe and everything, olympics, sports, training
|
Closed
---