Tweet It's been a year since Gordon Brown arrived in Number 10 Downing Street, uncontested. I don't normally look to record anniversaries (apart from this and this, and maybe this), nor comment directly on politics. I wish politics were better, of course, and I think the political media must take a lot of responsibility for […]
Filed under: behaviour, business, finance and markets, failure, journalism, what hacks off the hack?
|
Comments
5
I grew up in a family dominated by the internal combustion engine. My father raced motorbikes as a young man and once lay for dead in a ditch for several hours after a crash. He was lucky. Eventually somebody spotted him and pulled him out, and his skull was patched up with some nifty metalwork. This fact alone is enough to remind everyone in the Knackered Family of the low probability of us being alive at all.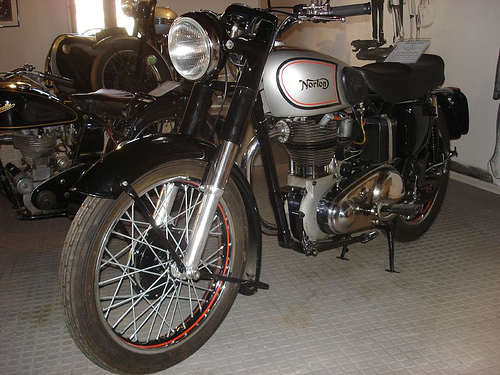 This 1951 Norton ES2 (courtesy of Michel 67 on Flickr) is identical to one owned by Knackered Père. By the way, Che Guevara set off across Latin America the following year with Alberto Granado on a 1939 model called 'La Poderosa II', or 'The Mighty One'. See the 2004 film dramatization, The Motorcycle Diaries.
Though my childhood was spent in close proximity to the motor industry, I wasn't always interested in it. And it is not entirely surprising that only a few days after my father passed away I missed the moment when a major milestone Continue reading 'a robot is for life, not just for christmas (lego version)'
Donate and help me buy back my Fender ('About' tells you why)
Tags:
-finance-and-markets
,
behaviour
,
business
,
collaboration
,
competition-and-performance
,
creativity
,
guevara
,
lego
,
life-the-universe-and-everything
,
mindstorms
,
neurology
,
norton-es2
Filed under: behaviour, business, finance and markets, collaboration, competition and performance, creativity, life the universe and everything
|
Comment
1
Tweet In full culture-vulture mode, the Knackered Family went to two live musical concerts this weekend. Both events featured largely acoustic instrumentalists, accompanied by a narrator. And both served to remind us that live performance offers an extra, magical dimension that recorded music can't. But one event also provided perfect grist for the Knackered mill […]
Filed under: behaviour, black swans, business, finance and markets, celebrities, collaboration, competition and performance, creativity, failure, music, writing
|
Comments
2
---