Just a public service announcement to readers in the UK with access to the BBC iPlayer and who missed the programme Imagine last week: Alan Yentob following in the footsteps of Oliver Sacks' book Musicophilia: Tales of Music and the Brain (US edition). There is just one day left to download it; you can then keep it for 30 days. Do it: it's worth it. The streaming landing page is here.
I've been doing a lot of experimentation with music over the past few years, not least trying to understand why I like what I like, how my tastes evolve, and what relationship there might be to my own cognitive function at different times. For example, for the past two months I've been listening almost exclusively to classical music radio, barely a CD and almost no pop.
The key points for us here in Imagine were the results of a functional magnetic resonance imaging scan of Alan Yentob's brain while he listened to three different pieces of music: one that made him happy (Is This the Way to Amarillo), one that annoyed him (some angry heavy metal), and a piece with deep emotional significance for him (one of Strauss's Four Last Songs sung by Jessye Norman (US version).
There were two unexpected results. One was that the first song didn't annoy Yentob (OK, that was my conclusion). The second was that the fMRI scan showed Yentob's brain literally "bathed in blood" during the most poignant musical choice; the first two songs activated regions of the brain more usually associated with music.
Then there was the autistic and blind pianist, Derek Paravicini, who'd come to music at an early age, and as an adult demonstrated extraordinary virtuosity — able to reproduce a piece of complex jazz immediately after hearing it for the first time.
But here you need to pay attention, because it was made plain — then sort of glossed over later by some Yentobian editorialising — that turning the early latent musical genius into what we saw on screen took years of patient mentoring by the music teacher; that his ability to express his musicality through the keyboard was painstakingly earned, and perhaps more so than for an unencumbered musician. The boy's ability to coordinate and apply appropriate fingering had been deeply limited by his disabilities (blindness/autism). There is probably a whole separate programme here on the process of releasing latent talent, particularly among those with learning impairments.
Finally, a group of Tourette's syndrome sufferers, who displayed uncoordinated tics when gathered in a room, became immediately transformed and synchronised as musicians when they started a drumming exercise. This apparently supernatural effect suggests a deep-rooted social component to our experience of music, and one that I've sought out myself over the past few years as part of my own evolutionary fitness experiments. But I suspect my choirmaster would dispute how readily I become synchronised with my co-singers.
For those who can't get the BBC, here are couple of YouTube's. The first with Sacks talking about rhythm, and the second from Derek Paravicini's website, which is ostensibly a UK TV documentary made specifically about him, featuring among others Jools Holland and Simon (not Sacha) Baron- Cohen.
Donate and help me buy back my Fender ('About' tells you why)
Tags:
Alan Yentob
,
autism
,
Derek Paravicini
,
fmri-scans
,
Imagine
,
latent talent
,
music
,
Oliver Sacks
Filed under: behaviour, coaching and teaching, competition and performance, creativity, latent talent, life the universe and everything, music
|
Comment
1
I hope that this'll be a first on the internet.
As previously reported, I sold a blonde Fender Telecaster to fund my 1986 language trip to Leningrad. How sensible of me! I came back with a huge weight of Russian poetry (books and records), iconography reference works, and some opera records — the glue in those record sleeves emitting some of the worst smells I've ever owned.
Oh, and I came back with lots of pictures of Viktor Tsoi, thanks to my Nikon FM and the fact that I'd loaded up with a decent amount of cheap, quality film courtesy of the geeks in the university Photography Society.
Well, there comes a time in every blog's gestation that it attempts to monetise, and here is mine. In a lot of other blogs you'll see the option to leave a tip, buy a coffee, a beer or a cocktail. I can take care of those on my own, thank-you. But what I really need is to get my Fender Telecaster back.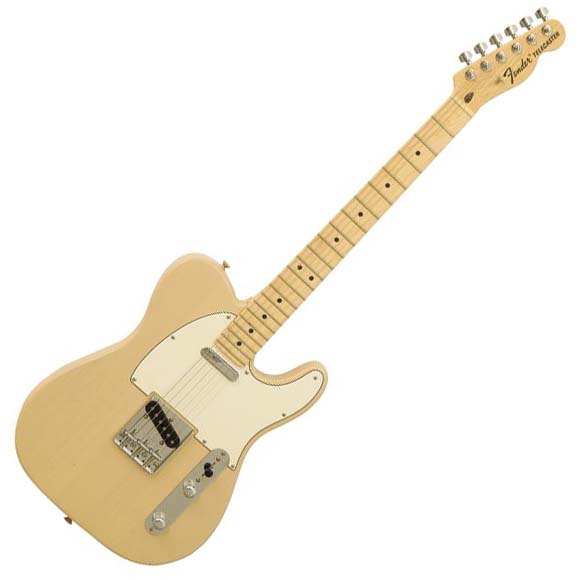 This is more than a simple loss. The guitar I sold in 1985-6 for £190 was an early '70s vintage maple-necked beauty, and quite possibly older, though definitely not pre-CBS (if you know what I mean).
Where I live, there is a problem for the middle-aged man, and it is a shop called Vintage & Rare Guitars. I'm finding genes are switching on that I thought I either did not contain or that were well under the control of some higher moral fibre. But I know myself too well. I also know that ownership of a Fender Telecaster is probably going to mean not playing it much. So, yes, this is an entirely materialistic vanity project. Rather than keep it to myself, like a sensible mid-lifer should do, I thought I'd share it and engage you all, my small readership, in my quiet, hopeful quest.
Crowdsourcing is the new new thing. And while I'm not expecting you, my readers, to give me anything, by six degrees of separation I think some of you might know someone who might know someone who knows a Russian hedge fund millionaire, metals/oil oligarch or football club owner of a similar age who would have been a Kino fan in his youth, who owes his non-linear wealth in no small part to the freedoms that Tsoy and friends struggled for. Or, better still, some young Russian who owns a search engine, assuming using such a term won't lose me friends or credibility

. If we can just prevail on their guilt for long enough to get their wallet out, they might toss a small sop into my PayPal begging hat that, for a little while, I'm going to embed in the posts and in the sidebar of the blog. It's an experiment, you know.
It's good to have an excuse to present an iconic image, and the Fender Telecaster (like my Nikon FM) is an iconic object. It was the first solid-bodied electric guitar. Launched in 1950-1 as the Broadcaster, it was the AK47 of the garage musician. When Chris Anderson talks in his book The Long Tail about the electric guitar democratising music for the pop revolution, and in effect randomising the path from musical obscurity to fame and success, I imagine it is the Telecaster more than any other guitar — even Fender's possibly more iconic Stratocaster — that he is thinking about.
Now, mine originally cost me £210, on which I made a loss. If I wander into Vintage & Rare Guitars today I can find one similar, although in rougher condition, for just short of £4,000. Ouch. If I indulge in a little fantasy and think mine was really a late '60s model (possible, though less likely) I'm out of pocket more than £6k; the one below sold recently from an advertised price of £6,850.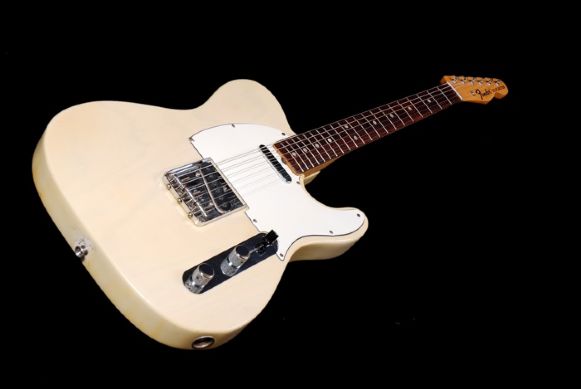 What's more, I made the mistake (due to lack of funds and too much homework) of not buying a real amp for the thing, which is why I never really got round to playing it much. Vintage & Rare have an extraordinary find which I must ask them about: a 1966 Fender Deluxe Reverb amp that has never been used, so the website says. As you can imagine, you have to inquire for the price on that one.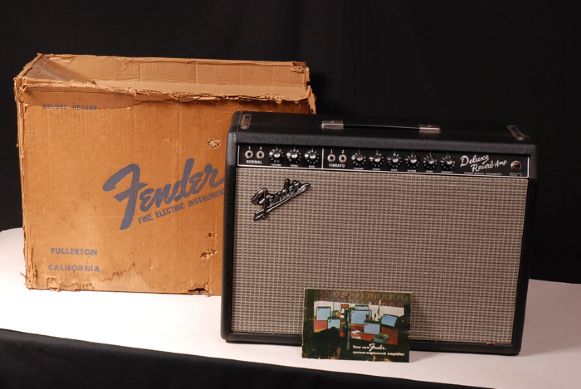 Well my current ambitions are somewhat more modest. The top pictured guitar can be had for less than £500. And I was surprised to learn that on a discount at my favourite tech store, Digital Village, a Standard Tele retails new for £275. That's less than they were when I was growing up, I think. (Don't worry, I know only too well that they are not the same.)
As anyone who has ever sent a cow or an African school or other gift through Oxfam etc will know, anchoring is important as a cognitive bias, so I'll start small:-
£279 buys a Standard Telecaster
£479 buys a Highway 1 Telecaster (top picture)
£549 buys a Vox AC-30 (but not the one below. Again, I could not dream of what that is worth.)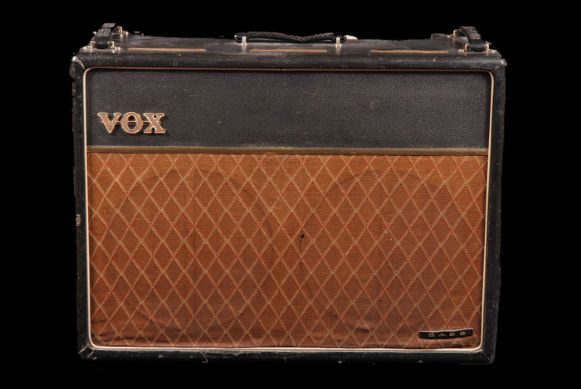 Of course, if you bought a Fender Telecaster in 1985-6 in Kettering for around £210 — blonde, white scratch plate with a slightly loose G-string — I'll give you £210 for it. Do the right thing, won't you?
I'm feeling rather guilty about this conspicuous begging, even though it happens to be my birthday today. Still, at least there are three links in this post to genuinely good causes. And you can't blame a guy for not wanting another set of G-clamps.
Photo credits: Top Digital Village Rest: Vintage and Rare Guitars
Donate and help me buy back my Fender ('About' tells you why)
Tags:
crowdsourcing
,
Fender
,
Fender-Telecaster
,
kino
,
music
,
Nikon FM
,
tsoi
,
Viktor Tsoy
,
Vintage & Rare Guitars
,
VOX AC-30
Filed under: behaviour, collaboration, creativity, kino, life the universe and everything, music, work-life balance, writing
|
Comments
11
Twitter showed its worth when @ryansholin announced (at least, it was news to me in landlocked Bath) that Maverick's – the annual big wave surfing event in Santa Cruz, Northern California — was convening this past weekend. The organisers called it last minute on Friday. All the young dudes rushed in to catch the notoriously huge Pacific west-by-north-west swell on Saturday.
Ryan, who blogs on the changing face of journalism, works for used to work for the Santa Cruz Sentinel, but recently moved to GateHouse Media, a large publisher of highly local print and online publications. Maverick's is in his back yard. He pointed us to the Maverick's website, where I spent enough time looking at 2006 wipeouts (see below) to end up with a headache. It didn't take long.
Just in case you think I'm suffering from apostrophe failure, "Maverick's" is short for "Maverick's Point" — Maverick being a white-haired German Shepherd dog whose human surfing companion was reputedly one of the first to try the giant waves near Half Moon Bay back in the '60s. The dog tried to swim out to join his surfing buddy, but the conditions were too treacherous and he had to be tied to the car bumper instead for his own safety.
Surfing heaven, sailing hell
I could not have cared less about surfing a few months ago. I'd seen crazy folks surfing mid-winter in Cornwall, desperately seeking even the tiniest waves in full wet-suits, while I stood (marginally less frozen and windswept) safely on shore. British surfing culture, such as I imagined it, left me cold; old surf-bum cliché mashed up with the with teenage surf fashion — who needed it?
It wasn't that I didn't have an affinity for the sea. I spent my twenties sailing a yacht most weekends and studying navigation on Tuesday evenings at night school in very non-coastal Parliament Hill, North London. I'm qualified as a Royal Yachting Association coastal skipper, hold the obligatory VHF radio operator's licence, and can confirm that yachting in the home waters of the UK is indeed like standing in a cold shower tearing up £20 notes. Who needs that either, frankly?
Crucially, though, for a yachtsman, the place where land and sea meet when the wind is blowing onshore is a no-go area. The lea shore that is surfing heaven is the sailor's total nightmare.
But last summer in Devon, my aversion to surfing changed. It was so wet on land in August that, having been rained on solidly in our camp site for several days, we thought we might just as well embrace our dampness and at least add the wind-protective qualities of neoprene. Courtesy of Loose-fit in Braunton (the world's first carbon-neutral surf shop, they assure me), we invested in some state-of the-art suits and plunged into the foam at Saunton Sands, encouraged by the Loose-fit slogan: "Hang Loose in the Juice." We were only on trashy bodyboards, purchased at the beach-side store, but it was surprisingly exhilarating. It transformed a holiday that would have otherwise been a washout.
Flush-through
As a non-scientist, what intrigues me about surfing and sailing, particularly when it comes to understanding and managing risk, is that they embrace and expand your knowledge of the non-linear. For instance, the Beaufort Scale for wind strength (which yachtsmen must learn to determine how much sail to carry, and what course to chart, and whether to go out at all) goes from 1 through to hurricane 12. But clearly a hurricane is not just twice as strong as Force 6; in fact, it's at least three times the wind strength, and produces more than 4.5 times the wave size.
When I did a search of Art De Vany's blog, as I'm wont to do when I want to understand something complex, it immediately threw up the insight that surfing is what de Vany describes as a "power law" activity. And that was what struck me when a large wave unexpectedly up-ended me (not for the last time), and I experienced the sensation that surfers call "flush-through" or "wash-thru": when the ocean breaches the sea-defence that is your wet-suit's collar and your nether regions get flooded with icy cold water, rendering you a human washing machine on a particularly vigorous rinse cycle.
Now, Ryan, at Invisible Inkling, talks a lot about the wave of change that is causing journalists and publishers to experience some of that metaphorical cullion-tightening wash-thru too. He urges journalists to re-skill, get blogging, Twittering and exploring social networks. Because newspaper circulations are falling, and revenue models that can guarantee the future of serious news-gathering are so far proving highly elusive.
Riding the wave
Putting these two things together reminded me of my own youthful Jeremiah pronouncements and specifically a now somewhat banal — but nonetheless prescient — observation I'd made in a meeting in 75 Wall Street way back in 1996, when I was London bureau chief for Knight-Ridder, and the idea of monopolising the Internets was just a twinkle in the young eyes of two 23-year-olds called Page and Brin.
I'd been summoned for meetings there with my fellow news managers to strategise the recovery of the Knight-Ridder international newswire that had spent several months passing through the uncertainty of an auction before being acquired from the Miami-based newspaper company (then still a thriving independent entity as one of the two largest publishers in the US) by venture capitalists.
I forget how many staff we lost precisely, but we were at least fully decimated. Fearful of acquisition by a competitor and enforced redundancy, so many had left seeking greater security, often with said competitors.
Private equity firm Welsh Carsen Anderson & Stowe, the firm that had bought us, had a bold strategy to overturn Reuters, Dow Jones-Telerate, and the emergent Bloomberg, and capitalize on a wave of financial market disintermediation by being the first company in the financial information industry to apply internet protocol. They acquired a bunch of information companies, ripped out their proprietary networks and technologies, and introduced standards.
WCAS already owned what it claimed was the world's largest private intranet, contested only at that time by Hewlett Packard. After buying us, WCAS tried to buy that doyenne of early internet adopters, Compuserve, too. They had the blessing of — and not a small amount of investment from — the world's largest banks and pension funds. At one point Tour de France winner Lance Armstrong was our official spokesman. Continue reading 'the maverick's story'
Donate and help me buy back my Fender ('About' tells you why)
Tags:
art-de-vany
,
collaboration
,
EMI
,
failure
,
Gerd-Gigerenzer
,
hubris
,
Jeff Clark
,
journalism
,
Knight-Ridder
,
Larry Page
,
luck
,
Mark Foo
,
Maverick's
,
music
,
Northern-Rock
,
recovery
,
sailing
,
Sergey Brin
,
surfing
,
Terra Firma
Filed under: behaviour, black swans, business, finance and markets, collaboration, competition and performance, endurance, failure, journalism, life the universe and everything, music, recovery, sports, what hacks off the hack?, what knackered the hack?
|
Comments
3
I've noticed bloggers apologise when talking about Andrew Keen, author of The Cult of the Amateur: How blogs, MySpace, YouTube, and the rest of today's user-generated media are destroying our economy, our culture, and our values. To quote him is to give him the publicity his faux-contrarian defence of mainstream, professional media is designed to elicit. But I'll take this opportunity to say that Keen's attack on the amateur and self-published is, in my view, a little bit Stalinistic.
I'd like to contrast the world he defends, where what we watch, hear and experience should be mediated by professionals, with one still in the recent memory where to self-publish was a political and democratic act and a gesture of defiance. Of course, there are some places still like that.
This thought came to me as I have been working on a pet project to archive some photos of Russian rock god Viktor Tsoy of the 1980s band Kino, who my Twitter followers may already be bored with me mentioning. What I have is an old hand-made cassette and a bunch of photos I took when hanging out with Tsoy in 1986.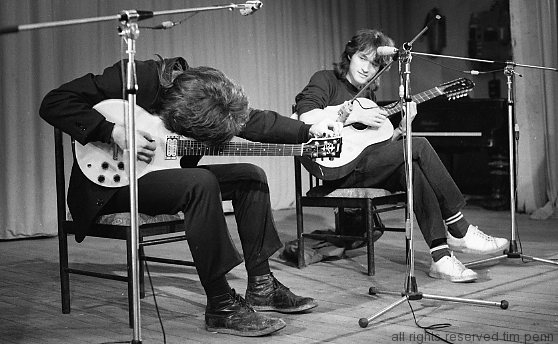 I need to come back to my knowledge of Tsoy in much more detail, but just as Yuri Kasparyan is tuning up in this picture, this post can be a small, note-bending taster of what I will aim to put up in the coming weeks.
Tsoy and Kino are noteworthy for a number of reasons in the history of 20th century culture, and arguably much more iconic than all those indie bands that we neurotic boy-outsiders modelled ourselves after in our youths — those that were invariably selling out while pretending not to. [I'm fine with that, by the way.]
Tsoy died in a car accident in 1990. So deep was his influence on the culture, 65 Soviet youth reportedly committed suicide after his death, thus compounding the individual tragedy. As an icon, Tsoy was one of those rare agencies who was breathing life back into a society that had suffered from seven decades of some of the worst repression in human history.
My most recent research on the band suggests that little if any of their material is copyright. This is not surprising because you could say that the Soviet Russian concept of self-publishing ( "samizdat" or, in the case of the cassette of their songs that I own, "magnitizdat"), was the original creative commons: copy and pass along.
What makes Tsoy the definitive amateur though was that, despite a burgeoning career as Russia's leading rock musician in the late '80s, when he was finally signed to the state record company, he reportedly maintained his employment as a boiler operator.
Well my own efforts are steadfastly amateur in so many respects that I too won't be giving up the day job

. But I must admit to some professional help in the form of my friend the artist Grahame Baker Smith, who helped me scan the first few images and saved me a lot of time by pointing me in the direction of the right technology. Grahame's work for that other rock god Robert Plant can be seen and commissioned here.
Donate and help me buy back my Fender ('About' tells you why)
Tags:
Andrew Keen
,
Creative Commons
,
Cult of the Amateur
,
kino
,
Media
,
music
,
Robert Plant
,
Samizdat
,
Stalinism
,
Viktor Tsoy
,
Yuri Kasparyan
Filed under: behaviour, black swans, business, finance and markets, celebrities, creativity, journalism, kino, life the universe and everything, music, what hacks off the hack?, writing
|
Comments
10
Tweet 3quarksdaily points to an article in Rolling Stone magazine showing how modern music is being dumbed down by sound engineers using compression techniques. They are reportedly under pressure from record companies to make music sound louder, particularly through computer speakers. It looks counter-productive from a commercial point of view, and surely must increase the […]
Filed under: behaviour, competition and performance, creativity, music, stress
|
Closed
---