It's perhaps time to end this maudlin phase on the blog, but before we go up-tempo, here's an excuse to post another picture of '80s Soviet rock icon Viktor Tsoi.  Nearly forgotten him had you? Newbies can start an excursion here to learn more about my chance encounter with Tsoi nearly a quarter century ago.
I may be wrong but I believe this photo was taken on Kodachrome transparency film.  I know I used a bit of Ektachrome in those days too, but I suspect this was 200 ASA, out of the red packet. Tuesday saw the demise of this much loved film brand.
On a happier note, I was recently reunited with my long lost Nikon FM, with which the above photo was taken.
Donate and help me buy back my Fender ('About' tells you why)
Tags:
kino
,
Kodachrome
,
Nikon FM
,
Viktor Tsoi
,
Viktor Tsoy
,
Yuri Kasparyan
Filed under: black swans, celebrities, creativity, life the universe and everything, mood, music
|
Comments
4
The following clip found on YouTube gives an idea of the Kino concert at which my pictures were taken. This is a different concert, obviously, because Yuri is not using the Yamaha SG but a Fender Stratocaster, as far as I can see. However, they appear to be from about the same time.
Since the the kids burned their own CD of Eto Ne Lyubov' (This is not Love) not much else has been heard in the house. As neither of them understands Russian, it is rather interesting that they should be so taken with it. It could be that they are doing what all kids will do at times of particular stress ie try to please their parents. Beautiful language as it is, liking incomprehensible Russian song lyrics seems a stretch. But the title song here is lovely. Enjoy the vid in all its amateur graininess.
The video was made using what I can only assume was a cine camera. The poster on YouTube was not the originator, telling me he was not even born at the time. But a close examination of my own pics revealed that there was a cine camera operator taking footage of the gig that I photographed too. I wonder where that footage is now and what became of the film-maker?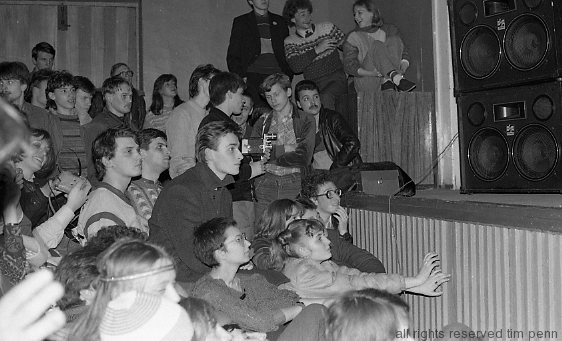 One should not forget that in 1986 the Russian campaign in Afghanistan was in full swing, and it's possible that not a few members of the audience were later victims of their military conscription.
More pictures are on their way…
Donate and help me buy back my Fender ('About' tells you why)
Tags:
kino
,
Viktor Tsoy
,
Yuri Kasparyan
Filed under: celebrities, creativity, kino, life the universe and everything, music
|
Comments
3
I've noticed bloggers apologise when talking about Andrew Keen, author of The Cult of the Amateur: How blogs, MySpace, YouTube, and the rest of today's user-generated media are destroying our economy, our culture, and our values. To quote him is to give him the publicity his faux-contrarian defence of mainstream, professional media is designed to elicit. But I'll take this opportunity to say that Keen's attack on the amateur and self-published is, in my view, a little bit Stalinistic.
I'd like to contrast the world he defends, where what we watch, hear and experience should be mediated by professionals, with one still in the recent memory where to self-publish was a political and democratic act and a gesture of defiance. Of course, there are some places still like that.
This thought came to me as I have been working on a pet project to archive some photos of Russian rock god Viktor Tsoy of the 1980s band Kino, who my Twitter followers may already be bored with me mentioning. What I have is an old hand-made cassette and a bunch of photos I took when hanging out with Tsoy in 1986.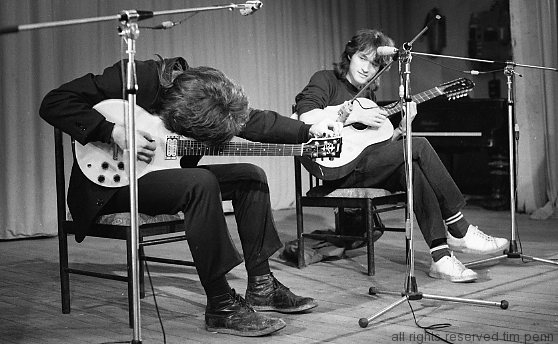 I need to come back to my knowledge of Tsoy in much more detail, but just as Yuri Kasparyan is tuning up in this picture, this post can be a small, note-bending taster of what I will aim to put up in the coming weeks.
Tsoy and Kino are noteworthy for a number of reasons in the history of 20th century culture, and arguably much more iconic than all those indie bands that we neurotic boy-outsiders modelled ourselves after in our youths — those that were invariably selling out while pretending not to. [I'm fine with that, by the way.]
Tsoy died in a car accident in 1990. So deep was his influence on the culture, 65 Soviet youth reportedly committed suicide after his death, thus compounding the individual tragedy. As an icon, Tsoy was one of those rare agencies who was breathing life back into a society that had suffered from seven decades of some of the worst repression in human history.
My most recent research on the band suggests that little if any of their material is copyright. This is not surprising because you could say that the Soviet Russian concept of self-publishing ( "samizdat" or, in the case of the cassette of their songs that I own, "magnitizdat"), was the original creative commons: copy and pass along.
What makes Tsoy the definitive amateur though was that, despite a burgeoning career as Russia's leading rock musician in the late '80s, when he was finally signed to the state record company, he reportedly maintained his employment as a boiler operator.
Well my own efforts are steadfastly amateur in so many respects that I too won't be giving up the day job

. But I must admit to some professional help in the form of my friend the artist Grahame Baker Smith, who helped me scan the first few images and saved me a lot of time by pointing me in the direction of the right technology. Grahame's work for that other rock god Robert Plant can be seen and commissioned here.
Donate and help me buy back my Fender ('About' tells you why)
Tags:
Andrew Keen
,
Creative Commons
,
Cult of the Amateur
,
kino
,
Media
,
music
,
Robert Plant
,
Samizdat
,
Stalinism
,
Viktor Tsoy
,
Yuri Kasparyan
Filed under: behaviour, black swans, business, finance and markets, celebrities, creativity, journalism, kino, life the universe and everything, music, what hacks off the hack?, writing
|
Comments
10
---